There's a new headset company in town: Tely Technologies, out of Port Orange, Florida. The owners, Toto and Kath­erine Lassally, have a 25-year background in high-speed automobile racing and have added their love of aviation to their love of car racing and founded this company.
With all that car racing in their past, the Lassally couple are no strangers to loud environments requiring accurate voice communications. With entrepreneurial blood running through their veins, aural engineering in their brains, and car racing and aviation experience in their hearts for many decades, they've developed two headsets for the aviation market: the passive aviation headset named the SOLO and the active noise-can­celling headset named the ACE. They recently sent us the ACE headset for a flight test and product review.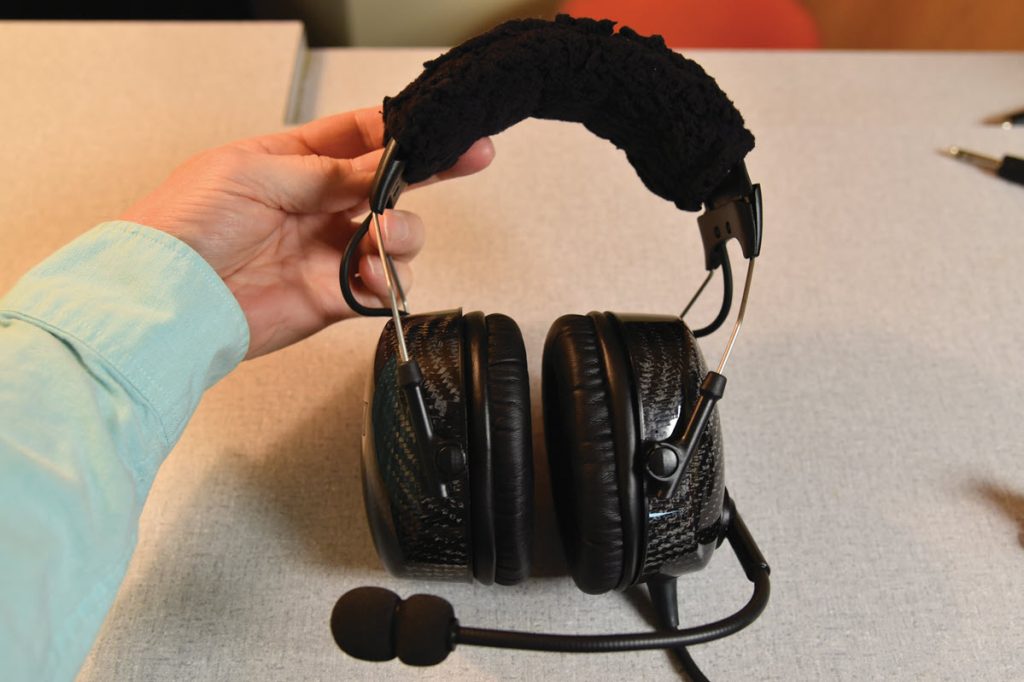 Tely ACE Unboxing
We all try to judge a book by its cover, and when the ACE headset showed up, I inspected the box that it came in. Abso­lutely professional in appearance. This company looks like it's been around a very long time producing headsets.
When I opened the box, I was amazed at the contents. The first thing that I saw was a very high-quality headphone case. On the top of the case was both a carrying strap and a pen/pen­cil holder. On both the left and right sides were holders suitable for cell phones, chargers, and similarly sized items. Some of the supplied headphone accessories can fit in these side hold­ers if you don't want to put the accessories in the case itself. There's also a zipper holder on the front that will work for thinner items. There's a lot included!
Compared to my Lightspeed Sierra and Flightcom Denali headsets, this headset comes loaded with options. Once un­zipped, the cover of the headphone case has holders for four pens/pencils. It came supplied with two Tely Technologies pens. It has a small slide-in transparent pouch with the warranty in plain sight. This compartment is perfect for your business card. There are also two zip compartments for additional pens/pen­cils and other small objects. In the main part of the carrying case are all the interface accessories and the actual headset.
I carefully removed all the accessories and put them aside, as I could see a beautiful carbon-fiber headset begging to be removed from the case. As I picked it up, I could tell that this headset was noticeably lighter than either my Sierra or Denali headsets.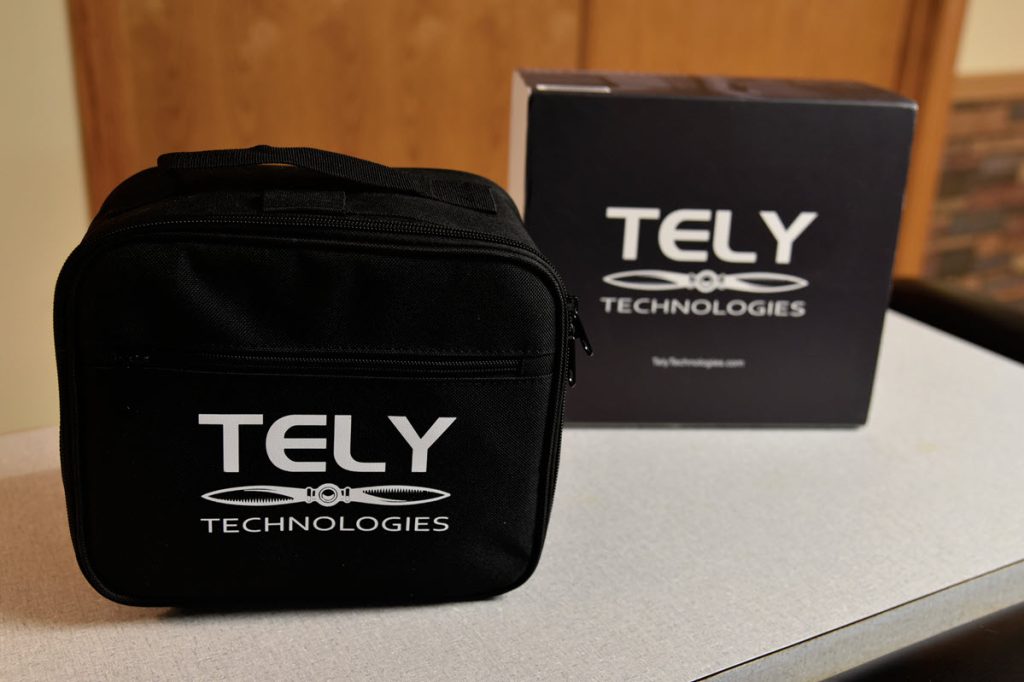 The Control Box
Next I picked up the headset control box. It's fairly large, larger than my Sierra control box, and includes dual volume controls, as it's a stereo headset. It has a push-on/push-off button with red/ green LED to indicate power status. It has a button for taking Bluetooth-enabled phone calls and a Priority switch that allows you to select your aviation intercom sound source as No. 1 prior­ity or to allow an auxiliary (aux) music input as No. 1 priority.
A passenger might choose music over intercom as number one, so that's a very cool option. If a passenger is using a lap­top computer, notepad or game console, for example, there is a cable that is supplied that allows you to plug the headset into that sound source.
There is also a volume control on the side of the control box for Bluetooth volume and, as stated earlier, a 1/8-inch stereo aux input jack and a USB-C connector. A cable is supplied to allow you to power your headset through the USB cable plugged di­rectly into your aircraft or other power source if you don't want to put batteries into the control box.
And there's one item that I'm really happy to see with the control box. In the case of my Sierra and my Denali, the control box just hangs from the plug end of the headset cable. This control box has a small holder you can screw into your aircraft or fasten with double-sided tape. The control box slides into the holder and you can adjust your headset without having to locate the control box. In fact, if you find a suitable location in your aircraft, you may not even have to remove the control box from the holder! Very cool.
Another cool feature is that the headset comes with a LEMO headset plug standard (LEMO is sometimes called Bose style, or Redel. It's a panel-powered headset jack). If you would like to install LEMO sockets in your airplane and power the headset directly from ship's power, you can. It also comes with two small interface cables. The first one is LEMO to a dual-plug headset and microphone cable, typical of our GA aircraft. The second interface cable is a LEMO to single-plug headset/microphone cable typical of other aircraft, specifically an Airbus.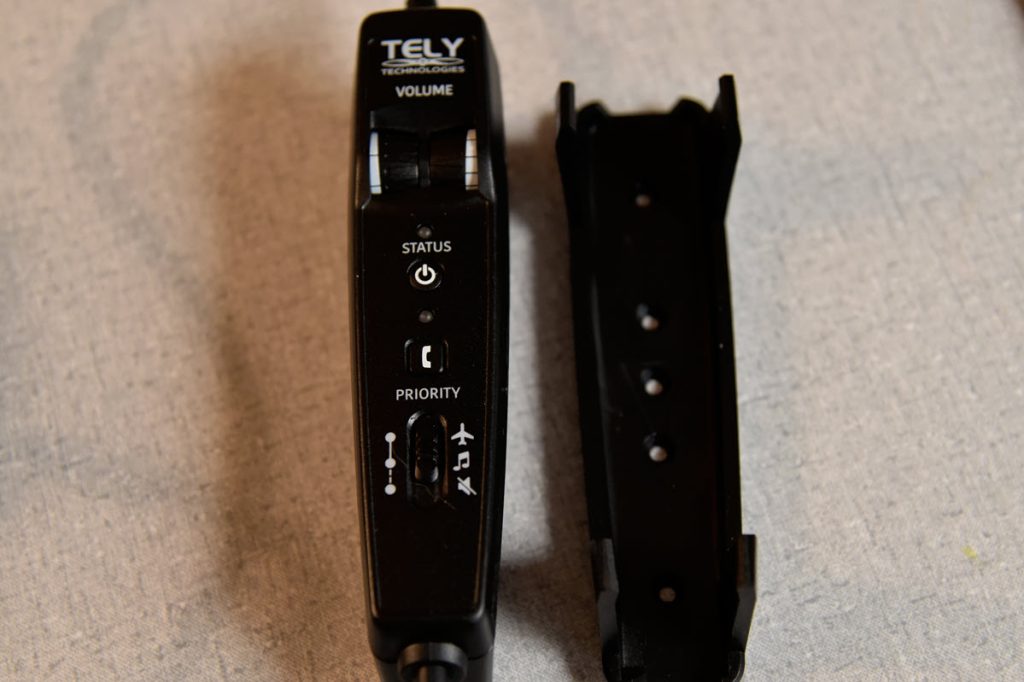 Review: The Headset's Comfort
The headset itself is carbon fiber, very attractive, and very light. The microphone is movable in all directions and very ro­bust. The headband is made of a very soft, fluffy, and replaceable wool fabric. The ear cups are also replaceable.
For this test, I flew with a friend in their Cessna 182. I brought my Sierra and one of my Denali headsets for comparison, and my friend had just purchased a Lightspeed Zulu 3 about a month earlier.
The first thing my friend Jason and I did was to compare weights of the Lightspeed Zulu 3, Sierra, and Flightcom Denali with the Tely ACE. This is not a scientific test in that we did not have a scale, however, you could hang each headset, one at a time, from a single finger and feel the difference. The Tely ACE is noticeably lighter than the other three headsets. That's re­markable because the other three headsets are fairly lightweight, and we've worn them for hours at a time with no issue. I'm sure that the carbon-fiber ear cups and frugal use of metal account for the lightness of the headset.
Next, I plugged the ACE control box into the intercom while Jason did the engine start and runup. After about two minutes, the batteries failed on the ACE headset. That's what I get for grabbing a used pair of AAA batteries from my battery box at home. So much for good planning! I sat in the plane for a mo­ment, annoyed with myself for mucking up this flight test until I remembered that the headset comes with a cable to plug into a USB power port! I plugged one end in Jason's 182 panel which contained a Stratus USB power port and the other end, a UCB-C plug, into the headset. Wow, that was nice. It powered right up, no batteries needed! If I had a LEMO in the panel I could have gotten power that way, too.
So far in this test, I have a very light, comfortable headset that runs on batteries or ships power via USB or LEMO, and a con­trol box mount for the wall of the cabin. Very nice, but what does it sound like?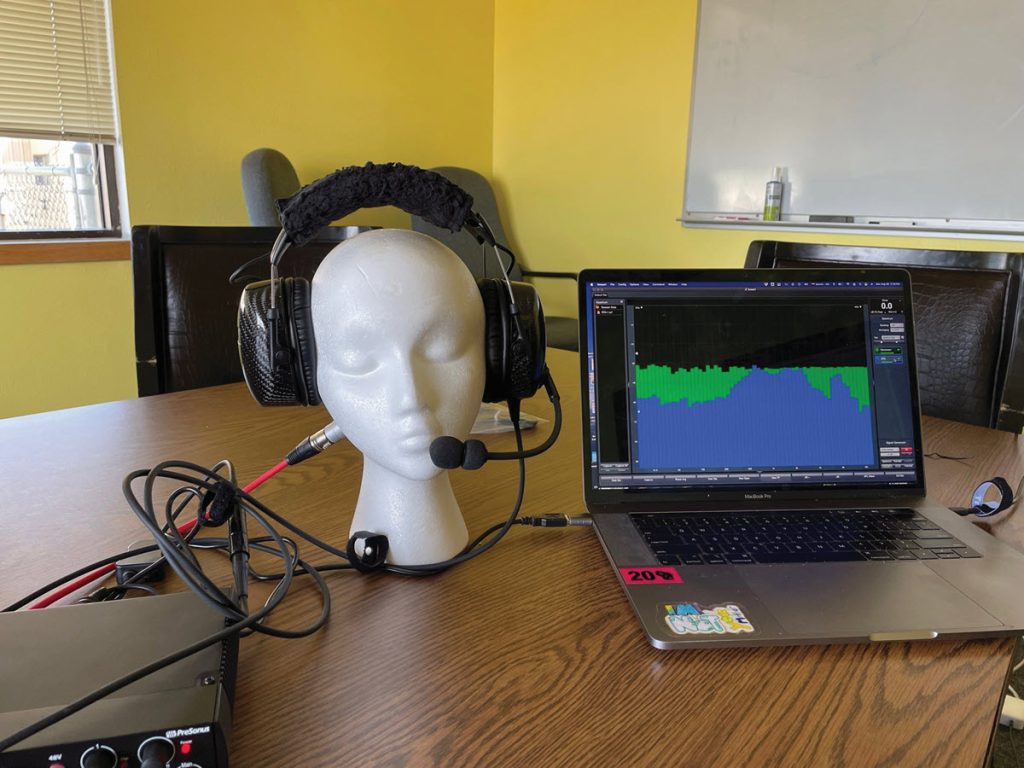 Tely ACE Review & Audio Test
By Jim Curns
Organization member Jim Curns and audio engineer Jeff Lange tested the Tely headset using audio equipment and filed this report. We have redacted most of the technical specs of this test, involving terms like "frequencies" and "pink noise," for space considerations.
Tely is a newer division of Speedcom, a company well-known in the auto racing world, especially in the world of endurance racing. From this background came the extraor­dinarily light carbon-fiber shell, rugged durability, and oth­er components of the Tely aviation headset.
One of our tests was to measure the reduction in sound that the headsets provided. To do this, we placed the Styrofoam head in the middle of the room on a ta­ble. Using a professional sound system capable of re-creating the frequencies that we experience during our flight, we first turned on the simulated airplane noise (pink noise) and measured the head with no headset on it. That was our baseline. Next, we measured the head in the same exact location with each headset. We graphed the results, which matched our personal opinions when we flew with the headset in a Cherokee 180.
Being owners of high-end headsets, we were awestruck by how light they are: 9 ounces! They feel like nothing on your head compared to the old clunkers from years ago.
When used in flight, we found the comfort to be very good (and I was still marveling over the extremely light weight.) The downside was a bit of low frequency noise getting past the ANR, at least compared to my usual headset.
Our takeaway: The Tely is a good set, comes from a good company offering a five-year warranty and features the oth­ers don't have. But in terms of sound reduction, they didn't match the quality of the higher-end units.
You would want to consider that, while also giving credit to the Tely for the ability to play music, pair with a phone or Bluetooth, and the other connectivity benefits like the cords that come with the Tely. I would personally be likely to keep my high-end set for myself, while considering using the Tely with my grandkids, as I think ANR is important for little ears, too.
Review: Sound Quality
We did taxi, run-up, takeoff, cruise, and landing with the head­set. Jason wore his Zulu 3 and I wore the ACE for taxi, run-up, takeoff, and cruise. We switched headsets while in cruise and for landing. We both agreed that the ACE was noticeably lighter than the Zulu 3 and Sierra. Whether that would matter on a long trip or not we don't know, as our flight was about 45 minutes.
While listening to both headsets through the intercom I could not hear any difference between the Lightspeed and Tely micro­phones. They are both excellent in sound quality.
Most importantly, is it quiet — does it reduce noise?
First, I'm used to wearing my Lightspeed Sierra. I've had it for at least five years. In fact, just last summer I replaced the ear cups and headband cushion. I've enjoyed it and highly recom­mend it. When I put on Jason's new Zulu 3, it sounded and felt just like my Sierra. I didn't notice any difference, given that the Zulu 3 is $850, the Sierra is $650, and the Tely ACE is $750.
When I put on the ACE, it sounded different. Not better or worse, just tonally a little different. After about 10 minutes, I didn't notice a difference anymore. It's extremely quiet and fidel­ity is very good.
Summary
Tely Technologies is a new/old company with decades of engi­neering and electronic design experience with headsets in noisy race car environments, much louder than our General Aviation environment. As such, creating a great new aviation product by Tely allowed them to leapfrog the usual engineering and manu­facturing evolutionary loop and jump right to a mature product in our marketplace.
Next time you're in the market for a new headset give this one a try. I think you'll find that the carbon fiber design, complete accessories inventory, sound quality, and low weight make it worth investigating.
TELY TECHNOLOGIES
www.TelyTechnologies.com
(386) 256-7989