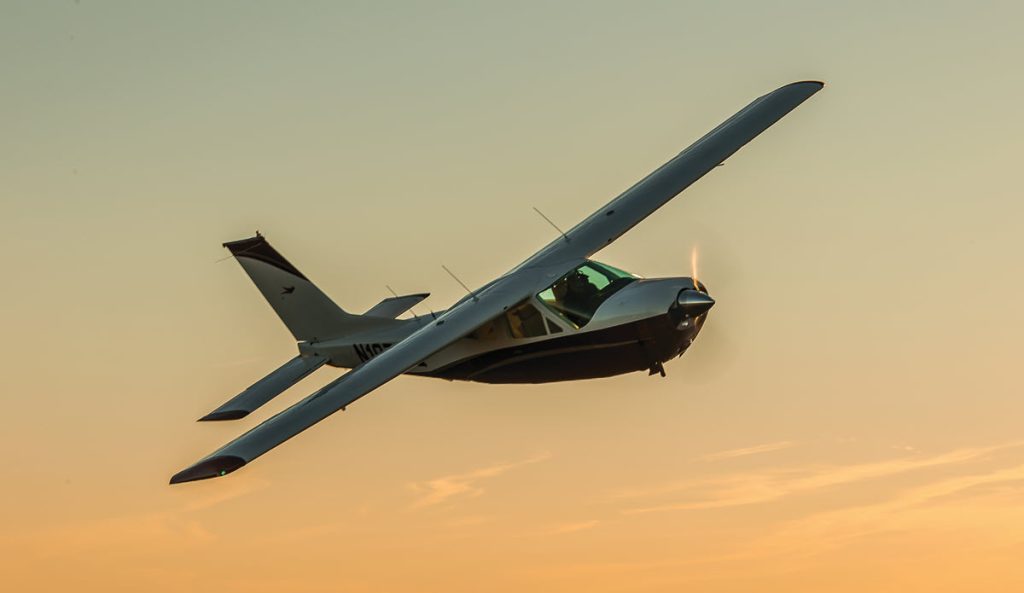 Most of our 50-year-old planes look 50 years old. Not that there's anything wrong with that. Most of us 50-plus-year-olds look our age, too.
But it's a simple fact that planes from the 1970s are often boxy or have 1970s colors, like an old San Diego Padres uniform. Cardinal RGs, however — and especially our cover plane this month — do not look 50 years old at all. With vintage planes, looks aren't the most important factor, but still, it's nice to fly a plane without being able to guess its age.
"People say that the Cardinal RG is probably one of the sexiest, cleanest-looking Cessnas ever made," said cover plane owner David Trebilco, whose 177RG is from 1972. "It's 50 years old this year!"
We concur with your enthusiasm. As Cardinal RG owners know, the specs are impressive enough. It's a bonus that the plane looks like something that even a teenager would sit in.
Skydiving Origins
Trebilco worked for 3M for 30 years and lived on the East Coast, in the Midwest, Colorado, and other places before moving to Texas in 1995. He doesn't come from a piloting family; he picked it up himself as he was growing up in Chicago. "I took my first dual instruction when I was 16," he said. "We lived in inner-city Chicago, and I was on my own financially (as it relates to being a pilot). I got my private license in 1976."
While inspiring, that sounds almost boring. The full story is anything but that.
"I started skydiving in East Troy, Wisconsin, when I was 18," he said. "That was kind of a sidetrack, and it deterred me for a while, but I built a lot of time by flying skydivers. We'd take turns being the pilot."
If you're not from the Midwest, you may not realize that skydiving in East Troy means skydiving into Alpine Valley Music Theatre. And skydiving into Alpine Valley during the 1970s means seeing some pretty cool concerts.
"We used to skydive to open the shows," he said. "We didn't get much money for it. The arrangement was a little bit of money, and they would also give you a grass pass for a future show. So we would pick and choose our bands, like the Doobies and the Eagles."
How did they skydive onto the lawn in this huge outdoor theater full of people? "Hopefully, the crowd would part ways to give you a path to land," he joked. "You'd pack up your stuff, get a beer, and watch the concert. I would park a small motorcycle there earlier in the day to get out."
Buying His Own Planes
Trebilco graduated from being in a skydiving club to owning his own planes, and has bought a few in his life, buying the cover plane in April 2015 from somebody in Santa Barbara, California.
"The plane spent most of its original life in the Chicago and Indiana area," Trebilco said. "Then the owner I bought it from had it out in California for about five to six years.
"I found it online and I went out to take a look at it. The arrangement was that I would pay for an annual inspection and the seller would pay for any airworthiness squawks. They had about $6,000 worth of repairs that needed to be accomplished to complete the annual."
What Trebilco remembers doing to the plane when he first owned it: "I put in a JP Instruments (Fuel Scan 45) fuel flow gauge because it has a small tank; it has only 50 gallons usable. I wanted the fuel flow gauge to know how many gallons are available. It's a pretty accurate device."
There were other minor things, as you would expect. "I had the four-place intercom system rewired," he said. "The Garmin 430 came with it, and I upgraded to the 430W, I sent it into Garmin to turn it into a Wide Area Augmentation System (WAAS). The WAAS has so much more capability when you add GPS. That was basically all I did on the panel.
"The autopilot wasn't working quite right, and I got that fixed. There were other, little things like lights."
The Major Things
There were a few major upgrades to be undertaken, but those took a few more years. Trebilco had it painted in 2017, which he knew would be necessary when he bought it two years earlier.
The plane had been painted with automotive paint, so the top surfaces were baked off; in part because that's not the correct paint for an airplane but also because it was living in California. "There was basically no paint on the top of the wings or any place that was on top," Trebilco said. "We had put that into consideration when we bought it, it was factored into the value. I knew that was going to be major, from a dollar standpoint."
The paint job was done by a small shop in Oklahoma. "They had it for three or four weeks," he said.
Now to the most major work: A wheels-up landing that resulted in a major overhaul just before Trebilco bought it. "The owner I bought it from had a wheels-up landing and bellied it," Trebilco said. "He flew it about 100 hours after that, and then put it up for sale."
Trebilco said he was comforted by that fact, not disheartened. "Why did I want a plane that had a gear-up landing? Well, you have to go through an entire engine when you have a prop strike — it has to be inspected and often overhauled, you have to go through the engine when a prop strikes. Everything that turns has to be replaced or recertified, so, for instance, the prop was new.
"So even though it's a ding on the history, that it geared-up, I was thinking 'this thing is going to be maintenance-free, firewall forward.' My gamble from 2015 has paid off."
As you can see from the pictures, the interior looks fabulous. Trebilco couldn't take credit for that. "The owner from California had the inside reupholstered," he said. "It's a sharp look."
Tips for the Cardinal RG
Trebilco had a 182RG before this plane. Not that he prefers one plane type over another, but what he likes most about his Cardinal is the useful load. "Mine has a 1,000-pound useful load," he said. "The book says it gets about 140-knot cruise; mine is 135-knot cruise. But it does that on about 8.5 gallons an hour. So has a large useful load, and it's really a miser on fuel."
The Cardinal is the only Cessna with a stabilator instead of a traditional stabilizer (every Piper has a stabilator). If you are new to Cardinals, here's what he thinks you should know: "It's naturally nose-heavy, so you have to watch your weight and balance, especially with two people flying in the front," he said. "Sometimes I add some artificial weight in the back end; it makes it much easier to land.
"From a maintenance standpoint, in terms of advice: It has an eight-quart oil system, but don't fill it any more than six quarts. If you run it any higher than that, it just blows out, and then you've got to clean the belly."
He said he might update to a glass panel in the future, but he's in no hurry. "I fly instruments all the time, cross country, and it already does the job safely and comfortably," he said.
Read a Cardinal RG Review by Bill Cox: cessnaowner.org/177rg-cardinal
Read a Cardinal Review by plane owner Randall Gayle: cessnaowner.org/owners-perspective-cardinal-177