Photos of Russel and Mari Jeanne Moore's 1985 P210R by Jack Fleetwood (www.JackFleetwood.com).
By Rocky Landsverk
When Russel Moore talks about his airplane and about flying, he speaks in third person. It's always about the people who got him where he is today.
Where he is today, from a piloting perspective, is flying a P210R Centurion, the only pressurized Cessna made before the company stopped single-engine production in 1986, and the best version of the P210 it ever made.
How he got there was via piloting parentage and a string of outstanding instructors and advisers. First on the list is his father. "My father was a lieutenant colonel in the Air Force, and he flew B-52s," Moore said. "I re­member when my mother, brothers, and sisters would go out to visit my father when he was on alert. We would be located by a picnic area where the family members would have a chance to visit with their dads. We would see the enormous planes parked on the tarmac ready to take off at a moment's notice, with security guards all around the plane because that was during the Cold War, and they were loaded with nuclear weapons.
"When he was not on alert, I remember him taking me to a B-52 simulator on the base. It was full motion with lighting and emergency alarms going off, as I sat in the pilot seat."
With a start like that, becoming a pilot someday was al­most inevitable. Later in this story, we'll hear about a string of P210 experts who have helped Moore get where he is to­day. But he was in no hurry to get there; in fact, his younger brother Garrie beat him to it.
"I had a number of breaks in my flight training," Moore said. "I was able to dry lease a number of planes from dif­ferent owners because they were either unable to fly, or they lost their medical, or they were trying to sell them, and they needed to have them up in the air. So I would pay for fuel and help in the repairs. I flew a 172 and a 182 that way, a Grum­man Cougar, a Barron, and a P210, all before I ever owned an airplane. I was able to rack up a lot of cross-country hours that way."
Moore compiled 650 hours in the P210 during that time. Garrie became a pilot in 1990 and purchased his first plane, a Cessna Cardinal fixed gear in 1991. He also then purchased a second plane — another Cardinal but with retractable gear.
Russel Moore wasn't going to be left far behind. Moore's younger brother beat him to being a pilot, so Russel returned the favor by buying a bigger plane. "He ended up buying a P210, which is the big brother to the Cardinal; they both have cantilever wings," Moore said. After flying with his brother, Russel had a familiarity with the P210's handling perfor­mance. "So being the big brother, I decided to buy the 210. We became a flying family, and it keeps my brother and I together with similar interests."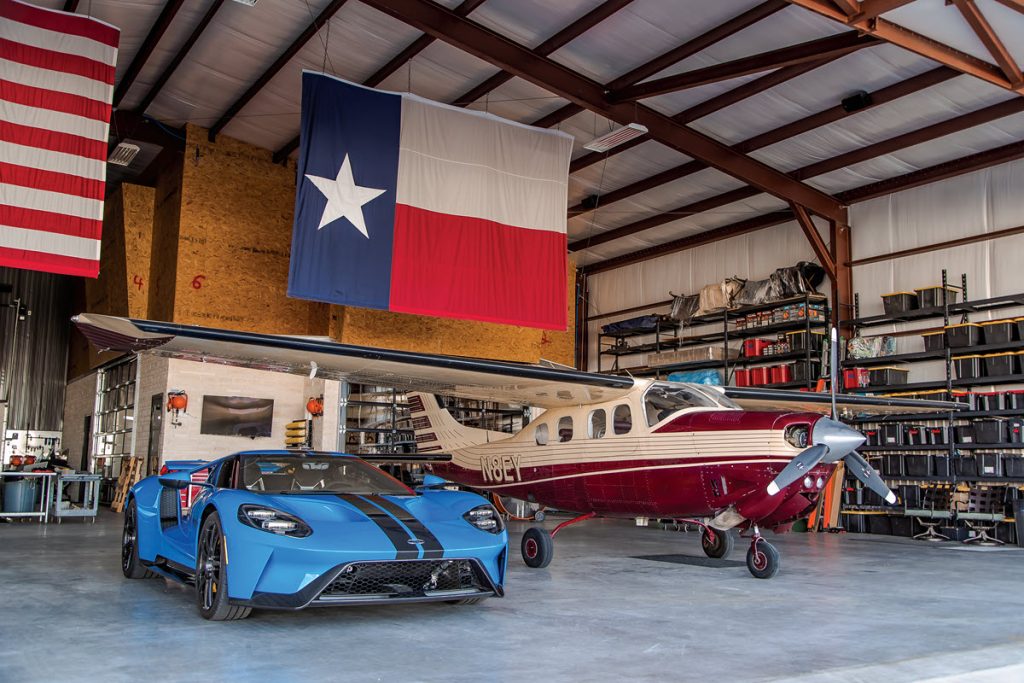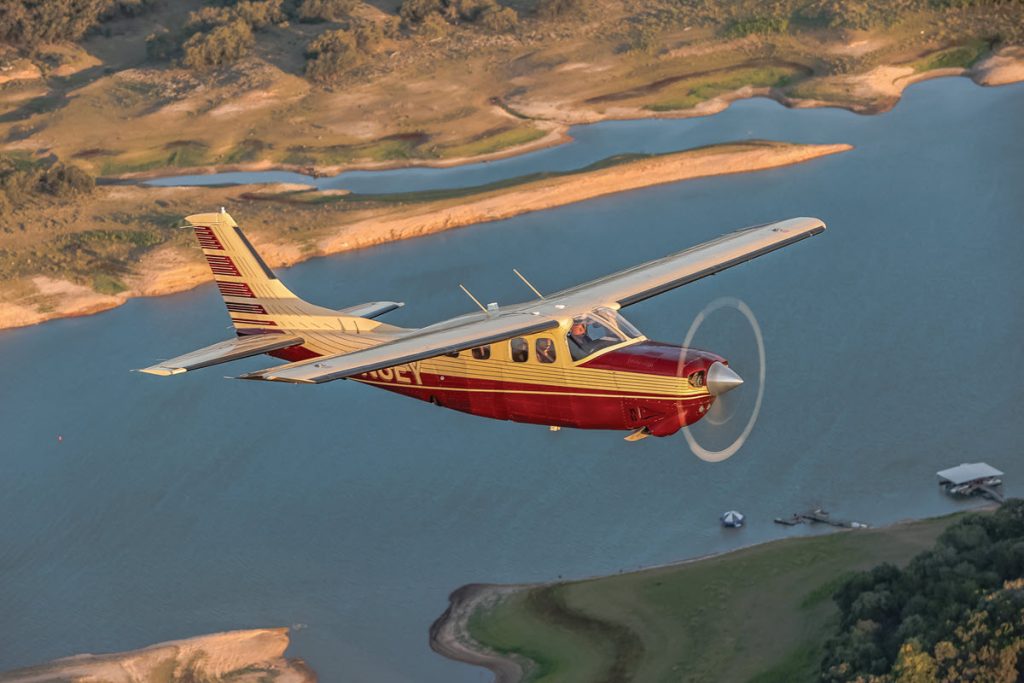 About the P210R
When Cessna first ventured into this higher-end pres­surized single, the early versions of the P210 in 1978 were troubled, with ADs and retrofits either required or strongly recommended. Over the years, Cessna fixed and improved this and that, culminating in the P210R, unquestionably the best of the breed. Largely in response to the introduction of the Piper Malibu, Cessna increased the performance, with an engine upgrade to 325 horsepower, extra wingspan that allowed for more fuel in the wings (taking capacity to 115 gallons), and a horizontal stabilizer that was extended by 3 feet. Performance increased greatly. It can fly at 213 knots and is comfortable cruising at 65% power while still reaching 190 knots.
"One of the innovative things that they did to the design, they expanded the wing. I believe it's an additional 2 feet," Moore said. "It also has a bit of a larger elevator, so you have lighter pitch forces, and takeoff rotation and landing flare are much more manageable. And by expanding the wings, they were also able to give you those extra gallons, so you don't have to install an aftermarket unit like the O&N aft tanks."
Aft tanks create center-of-gravity issues, Moore said, be­cause you're putting a lot of weight back there. "O&N makes an aft tank, and you put it into the baggage compartment, but now you've got roughly 30 gallons at 6 pounds per gallon, 180 pounds in a baggage area that is only supposed to hold 200 pounds," he said.
You pay for these P210R improvements on the secondary market, of course, and Moore admits he did when he bought this plane in late 2021, but he believes it was worth it. Moore said the pre-purchase process was "arduous, to say the least."
"I flew all over the United States looking at different P210s," he said. "I got the help of Chuck McGill, who was scouring the California area for me, and Paul New, who did two pre-purchase inspections for me."
He eventually found this plane online, and somewhat circum­stantially, McGill — a well-known trainer and author who is a P210 expert — was the owner's rep. "I didn't want to spend that kind of money for the R model, which is a lot more money than the N model," Moore said. But in looking at what it would take to upgrade an N model to being what Moore wanted in a plane, he decided it was better to just skip ahead and buy the R model. "I'm 70 years old and decided that from now on, I'm not buying green bananas anymore," Moore said. "I don't know if I will be around to see them ripen."
CESSNA P210R SPECS
| | |
| --- | --- |
| Engine | Continental TS10-520CF |
| Horsepower | 325 @ SL to 17,000′ |
| Top Speed | 213 knots |
| Cruise Speed | 190 knots @75% |
| Fuel Capacity | 115 gal |
| Fuel Burn | ~20 gph |
| Gross Weight | 4,100 lbs |
| Empty Weight | 2,471 lbs |
| Avg. Useful Load | 1,629 lbs |
| Takeoff Over 50 ft. Obstacle | 2,325 feet |
| Landing Ground Roll | 840 feet |
| Landing Over 50 ft. Obstacle | 1,600 feet |
| Ceiling | 25,000 feet |
| Doors | 1 1/2 |
| Seats | 6 |
| Dimensions | |
| Cabin Width (at shoulder) | 44 inches |
| Length | 26′ 4″ |
| Height | 9′ 8″ |
| Wingspan | 38′ 10″ |
These are the specs for a Cessna P210R. Every vintage airplane is now different; do not use these specs to plan a flight. All data taken from the Standard Catalog of Cessna Single-Engine Aircraft (JP Media LLC).
More Moore Mentors
So far, we've mentioned a parent who flew B-52s, and well-known P210 experts Chuck McGill and Paul New. Moore at­tended some P210 courses run by New, the Cessna expert from Tennessee Aircraft Services, the same Paul New who created a four-hour webinar for COO (learn more at cessnaowner.org/ paul-new). He also conducted a three-day clinic that goes into depth on the airframe, systems, and engine.
Moore also made a point to talk about his instructor, Niels Caminada, a CFII from the Netherlands. "I was the student, and he was the pilot and instructor, but we have a great friendship beyond that," Moore said. "I learned a great deal about life. He taught me that especially as a pilot, you can't point your finger at anybody. You gotta take 100% responsibility for your actions."
There were even more mentors. "I got with two great instruc­tors from Texas State Aviation, Erik Landrum and George Wil­hite," he said. He got that instruction more recently in his flying career "to knock off a lot of rust because I had over a 10-year span of being inactive."
We're not done dropping names yet. He was also an avid read­er and follower of Richard Collins, the legendary author and aviation expert who often wrote about his P210. Collins died in 2018 after a long and storied journalism and piloting career.
About This Plane
The panel is pretty much what Moore purchased. He plans to add a Garmin GTX 345 transponder so he can add ADS-B In. He has a Garmin GTS 800, which brings traffic advisory (TAS) but isn't full-fledged ADS-B In. "It gives me traffic, and I have XM weather, but I'd like ADS-B information as well," he said. See the panel pic­ture, which has labels to help locate the instruments. Key among them are the Garmin G500 PFD and the Genesys S-TEC autopilot.
One of Moore's favorite parts of the plane are the speed brakes. In the pictures, it's below the Mid-Continent unit, to the left of the 430. It's a push-button annunciator that allows you to deploy the speed brakes. Moore said two of the requirements of his plane were the 55X autopilot, and speed brakes. "I use the speed brakes all the time," he said. "Coming out of high altitudes, you're able to increase your descent rate without increas­ing your speed, and if you're a little high coming in on an approach, you're able to use that to get lower, quicker, without having to gain airspeed and maintain your same flight pitch for the run."
Moore said his primary mission is to "fly and have fun," but this plane also serves the specific purpose of getting him to his second home in Durango, Colorado, which is at 6,500 feet. "Because this plane is pressurized, it allows me to get over the mountains without everybody having to put on oxygen," he said.
Next for Moore is probably an M class like the Meridian, or a SOCATA TBM 700C.
"When I spoke to my dad about getting my private, he said, 'Once you get that, son, I want you to get your instrument ticket,'" Moore said. "I did that, and right after that, he also told me, 'Now you need to get your multi-engine,' and I accomplished that. And then he said, 'Now it's time to get turbines on those wings' and I said, 'Hey, stop it, I can't afford that!' But now I'm looking for the turbine to hopefully fulfill that order my father requested."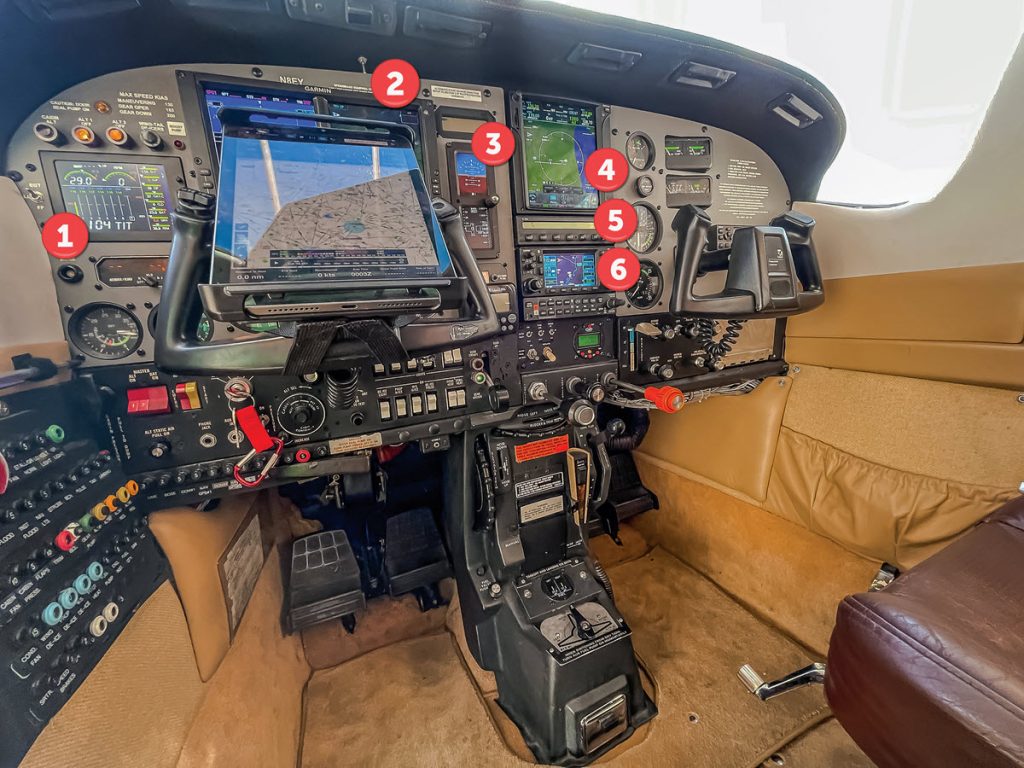 JP Instruments engine monitor
Garmin G500 Primary Flight Display (PFD)
(behind iPad)
Mid-Continent Attitude Indicator
Garmin GTN 750 (GPS, nav/comm, MFD)
Genesys S-TEC 55X autopilot
Garmin GNS 430 (WAAS). Hidden behind the
copilot yoke in this picture is the Garmin GTX
330ES extended squitter transponder. "That's
the one that someday I want to change out to
a 345," Moore said, referring to the GTX 345
that offers ADS-B In and Out.
About the Man Cave
Moore bought the airplane hangar about two years ago, over a year before he put a plane in it. He's chipped away at it, and while it's impressive by any standard already, he's not yet done with the wall that will honor his father and his father-in-law, both military pilots. "My father-in-law flew Corsairs in World War II, and my dad flew B-52s, and I have pictures of both of them with their medals," Moore said. "I have a radial engine where we cut the cylinder walls in half and added an electric motor, so you see the propeller and pistons going up and down while the valves open and close." There's a large speaker behind the unit that makes radial engine sounds, and the stairway lights up when walking up to the second floor. There are little elements of the Man Cave like automated lights with motion sensors, and oil filters used for can lighting. The large doors with windows ensured the hangar didn't feel like a basement. There's also a large trophy wall for animal mounts and a nice office area for his flight simulator equipped with a G500, 750, and 430. Those all work with his X-Plane 11 and Pilot Edge simulator soft­ware to keep him active when he's not in the air.
Select a photo to open a pop-up slide show