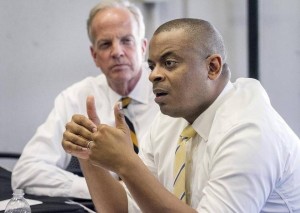 WICHITA, KAN. – On National Aviation Day (August 19), U.S. Senator Jerry Moran (R-Kan.) – member of the United States Senate Committee on Commerce, Science, and Transportation and Commerce Subcommittee on Aviation Operations, Safety and Security – hosted U.S. Department of Transportation Secretary Anthony Foxx in Wichita, Kan.
The following day, they co-wrote a column for the Witchita Eagle paying homage to the history of aviation while also acknowledging the need for improvement.
"The visit to the National Institute for Aviation Research (NIAR) and roundtable conversation with the state's leading aviation stakeholders allowed me to see the vital role that Kansas plays in our aviation sector," Sec. Foxx said. "I want to thank Senator Moran for welcoming me to his home state and look forward to working with him to continue enhancing safety and implementing new technologies."
"I am pleased Sec. Foxx accepted the invitation to join me in the Air Capital of the World," Sen. Moran said. "General aviation is the largest industry in Kansas, and for many individuals and businesses in rural areas it the most reliable means of connecting with the rest of the world. Our state especially benefits from good policy at the FAA and safety in our skies. I am confident the conversations Secretary Foxx had with Kansans will give him valuable perspective for his work in Washington."
Sec. Foxx's visit included a presentation by Wichita State University President John Bardo and Wichita State University Vice President and Executive Director of the National Institute for Aviation Research John Tomblin, a meeting with Shawnee County officials regarding the Willard Bridge in Topeka, Kan., and a roundtable forum with aviation industry stakeholders and representatives from both state and local government.
The visit highlighted Wichita State University's state-of-the-art research, testing and education to advance our nation's aviation industry. The conversation also centered on the need for a long-term FAA reauthorization. After 23 short-term extensions between 2007 and 2011, Congress passed a four-year reauthorization of Federal Aviation Administration (FAA) programs in 2012 – that legislation is set to expire next month.
To view the co-written article from the Wichita Eagle, click HERE.