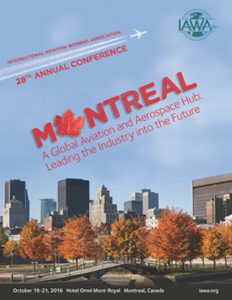 The International Aviation Womens Association (IAWA), a worldwide organization for women who hold leadership positions across the entire spectrum of the aviation and aerospace industry, has announced that registration is now open for its 28th Annual Conference. This year's conference will be held October 19-21, 2016 in Montreal, Canada at Hotel Omni Mont-Royal.
IAWA's mission to Connect, Inspire and Lead will bring aviation and aerospace leaders from across the world to Montreal in 2016.
This year's conference will feature timely and important global aviation and aerospace topics presented by prominent women in the industry. Interactive leadership development discussions will also be available to conference attendees. In addition to the keynote speakers and panel sessions, the IAWA Annual Conference provides unparalleled opportunities to build and extend worldwide professional networks with key industry contacts, including IAWA's Board of Directors.
IAWA is committed to reaching out to the next generation and helping to attract and retain future women leaders in aviation and aerospace through its outstanding scholarship, internship and mentoring programs. 2016 Scholarship recipients will be recognized in Montreal.
Registration is now open for the conference. Early bird rates are available. Information can be found at http://iawa.org/content/28th-annual-conference.
Those who would like to be part of the mailing list to receive conference information can do so at this time. Information is available by contacting IAWA at its headquarters via phone (443) 640-1056, fax (443) 640-1031, or email at info@iawa.org.
Information is also available at www.iawa.org
IAWA is a non-profit association providing a worldwide network dedicated to promoting the advancement of women in the aviation and aerospace industries at all levels across the globe. IAWA sponsors informative meetings, hosts receptions and connects, publishes newsletters, and keeps its members updated on the latest industry developments.