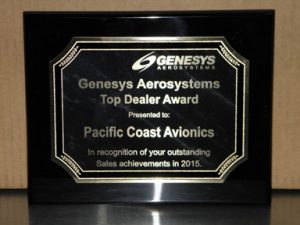 Genesys Aerosystems Selects Pacific Coast Avionics 14 Years Running
AURORA, Ore (January 16, 2017) – Pacific Coast Avionics announces, that for the 14th consecutive year, they have received the Genesys Aerosystems (S-TEC Autopilot) Top Dealer Award. The Oregon-based avionics dealership has received this distinction above more than 700 other Genesys Aerosystems dealers worldwide every year since 2002.
"The Genesys Aerosystems/S-TEC Autopilot product line is the most popular autopilot product line-up available today. These systems make every phase of flight easier, safer and more reliable," said Dewey Conroy, Vice President of Pacific Coast Avionics. "When you combine that superior guarantee with the technical expertise of our staff along with our fabrication and installation capabilities, the results speak for themselves."
"Pacific Coast Avionics is one of the leading avionics facilities in the western United States and has continued to grow every year," continued Conroy. "With partners like Genesys Aerosystems providing outstanding autopilot systems, we are able to keep doing great things for the future of aviation."
In addition to the Genesys Aerosystems Award, Pacific Coast Avionics has received numerous additional awards – positioning the Company as a recognizable leader in the avionics industry. Notably, Pacific Coast Avionics has received Top 10 Garmin Elite Platinum Distinction for the past 20 years.

About Pacific Coast Avionics – Pacific Coast Avionics, located in Aurora, Oregon, is a major supplier of avionics, instruments and pilot supplies to customers worldwide. The Company represents all major manufacturers by providing sales, service and installation support. Pacific Coast Avionics is located on Aurora State Airport just south of Portland, Oregon. Its 14,000 square foot facility can accommodate a wide range of aircraft up to and including business jets. Pacific Coast Avionics is an FAA approved Repair Station, No. OPXR455L, Class 1, 2, and 3 Limited Instrument. For more information, visit www.PCA.aero.