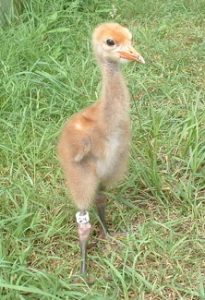 Since 2001, Operation Migration (OM) has been introducing captive-raised whooping cranes into the wild and leading young birds on their first migration from Wisconsin to the Gulf Coast.
We are currently focused on introducing new chicks directly into the existing Wisconsin flock and closely monitoring that flock, but we need your help.
Since 2001, Windway Corp. of Sheboygan, WI, donated its Cessna Caravan for single flight each mid-June from Laurel, Maryland, where the chicks were raised, to Oshkosh, Wisconsin. From there, OM trucks them to our field station at White River Marsh in East Central Wisconsin, where they are introduced back into the wild.
Sadly, Windway's CEO passed away last fall and its flight department no longer exists. We are looking for a person or corporation who would be willing to donate that single flight from Maryland to Wisconsin to transport six to eight birds in their crates.
Each bird travels in custom-made cardboard crate that measures about 24″x24″x48″ tall. Any "mess" is entirely contained within the crate.
The ideal aircraft would a business jet, Cessna Caravan, or similar utility aircraft.
Operation Migration receives no federal funds. We are a 501 c 3 charitable organization supported entirely by grants, private donations, and dedicated volunteers. We are part of the Whooping Crane Eastern Partnership, a coalition of federal, state, and private agencies dedicated to preserving the Whooping Crane from extinction.
If you are able to help Operation Migration with this flight in mid-June, please contact David Sakrison via email at: sakrison@charter.net.