The NTSB issued a Safety Alert in mid-October to alert pilots and their mechanics about the need to closely manage the state of their plane's fuel selector.
From the Safety Alert:
PILOTS: Ensure Your Fuel Selector Works
Worn components can lead to fuel starvation and sudden loss of engine power
The problem
Worn fuel selectors have led to fuel starvation and loss of engine power, resulting in serious and fatal injuries. As fuel selectors wear, the fuel selector handles may be difficult or even impossible to turn. If a pilot applies too much force, the internal components can fracture and obstruct the fuel flow, resulting in a total loss of engine power. In addition, worn detents could make it difficult for a pilot to properly position the fuel selector to the desired tank. Positioning the fuel selector incorrectly to an empty tank or in between tanks could ultimately starve the engine of fuel.

Related accidents
Since 2008, the National Transportation Safety Board (NTSB) has cited the fuel selector in 104 accidents; 63 of those accidents involved incorrect use/operation of the fuel selector, and 28 cited degraded function of the fuel selector. Typically, these types of accidents result in fuel starvation and loss of engine power.
During the initial climb after a touch-and-go landing in a Piper PA-38-112, the flight instructor reported an emergency and indicated that he would return to the airport. The airplane then spun to the left and impacted a marsh. The airplane was destroyed; the flight instructor sustained serious injuries, and the student pilot died.
Although the fuel selector handle was positioned to the right main fuel tank, an insert in the fuel selector had fractured into multiple pieces that showed overstress
and wear. The fuel selector handle likely had been difficult to move for some time, and excessive force would have been required to move the handle from one position to another, thus causing the wear.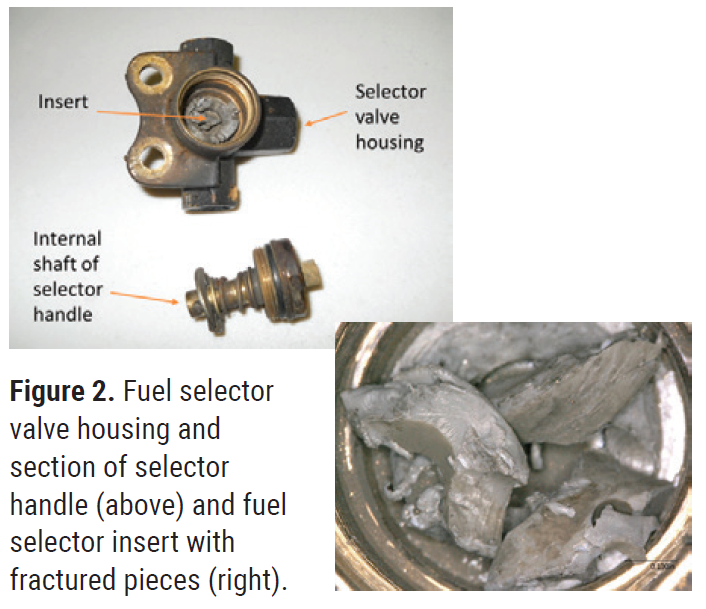 Download a PDF of the Safety Alert here.
Mechanics received a different version of the same report. Download the mechanics version here.
What can pilots do?
Check the fuel selectors for proper operation during your preflight assessment, ensuring that the fuel selector moves freely and stays in the correct detent when selected and that fuel selector placards are accurate and legible.
Do not force a handle that is difficult to turn; it could lead to fractured components inside the fuel selector that may prevent proper operation.
Do not fly if your fuel selector exhibits any of the following:
• Sticking and binding,
• Requires greater-than-average pressure to turn or move, or
• Worn detents that do not stop the selector in the desired position.
If you encounter any problems with the proper operation of the fuel selector, do not attempt the flight. Report the anomaly to maintenance personnel for inspection or repair.
Be informed and review and comply with any applicable airworthiness directives and service bulletins regarding the fuel selector and components.