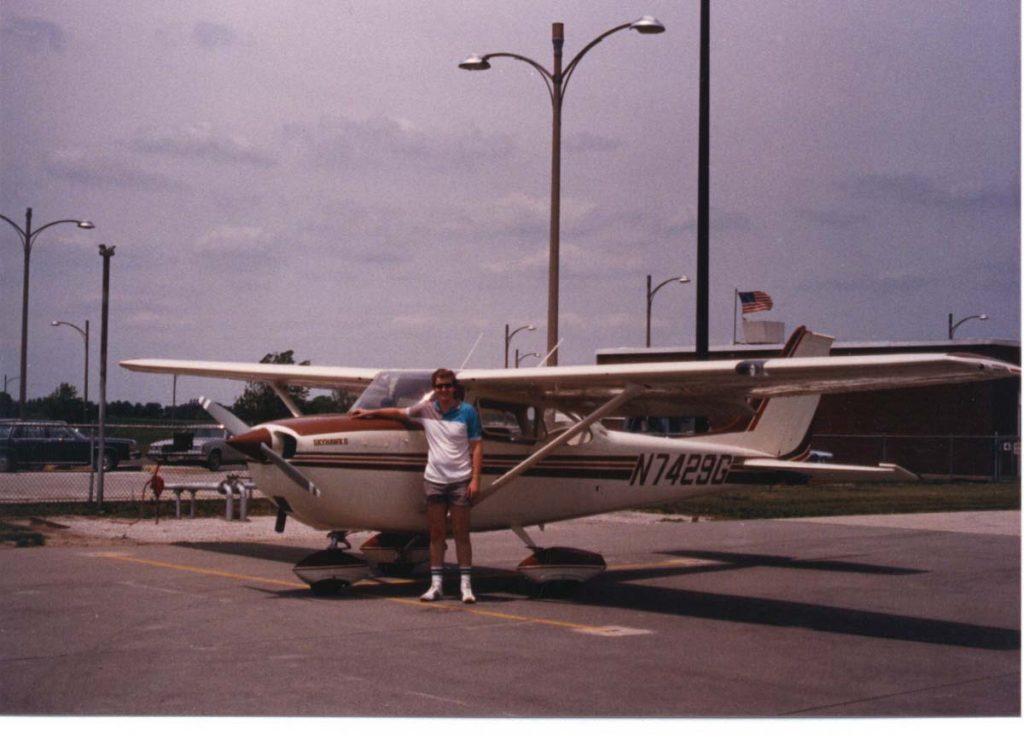 When Mike Fuesting bought N7429G in 1984, he knew it was going to need a few panel upgrades, but more than 30 years later as the 1970 Skyhawk was approaching its 50th birthday, Mike decided it was time for a more thorough restoration.
"The plane had kinda gotten pretty ratty. It was almost 50 years old and it had never been changed," Mike said. "I started out with the interior first. I thought that was going to take me maybe a couple months or so. Well, that wound up being about six months. I started late in the fall and then went all through winter. And I about froze my keester off in the hangar."
Mike updated the original interior from the 1960s-era burnt orange to a more modern burgundy and cream. This included the upholstery on the side panels and doors, the seat upholstery, headliner, and the carpet, which was a little worse for wear.
"I did run into places where the carpeting was just falling apart," he said. "The side panels where you put your charts and stuff were just breaking down. So that was a big issue and that's probably what motivated me to go forward. … After I helped with one of the annuals and put it back together, pieces were … it needed some Duct tape."
Mike said the headliner was one of the most damaged parts of the interior. So, since he was tearing out the fabric anyway, Mike decided to add soundproofing insulation in the ceiling of the cockpit.
"I'm a dentist; my ears ring all the time," Mike said explaining that the cockpit noise wasn't particularly noticeable for him. "I fly with another guy each week and he has a Cessna that is three years newer than mine. He did some recordings on the inside and the sound level is probably only 1/3 in my airplane now of what it is in his plane. His is stock. It made a tremendous difference."
Most of the interior plastics needed painting and Mike also sandblasted most of the metal parts in the interior to remove corrosion.
"The 1970 models have little rods or curtain rods that go in [the headliner]. Those things were rusted and stuff," he said. "I pretty much sandblasted all of the metal that was in there and repainted them in anti-corrosion type paint. I did the ceiling and I did all the walls and I did the kickplates and I painted everything on the interior and the doors and I redid the doors as far as the seals and repainted them and put new upholstery on them."
In all, the interior restoration took about six months with Mike spending whatever free time he had on it.
"I worked four 10-hour days in the office and then I would go out to the airport and work another three hours at nighttime," he said. "On my days off I was out there pretty much all the time with the exception of when we had family things that I had to attend to. So, I put a lot of time into it. I put in probably 40 hours a week on that. I started out wanting to do one thing and then that led to another. You know when you do your kitchen and you say, 'Well, I just want to do this' and by the time you're done there's eight things that got included in it."
While Mike said he did most of the work himself, he did have some help from his family in the interior including installing the new upholstery with help from his daughter, Melissa.
"My daughter came home over Christmas vacation from grad school and she did help me for a period of probably about a week when we were refinishing some of the things and then also putting the seats back together after we had stripped them all apart, sandblasted them, and painted them," Mike said.
One of the hardest parts of the interior restoration, according to Mike, was removing the old webbing from the seats.
"It was all put in with [metal rings] that you have to have special pliers to crimp," he said. "The newer stuff is all glued and that worked a whole lot better."
Mike's new seats are from Airtex and he said that they've made a big improvement in more than just the aesthetics.
"That all came with the package from Airtex – the cushions and the padding and stuff," Mike said. "My daughter is short so she's always had a little bit of an issue seeing over the panel. But when we put the new stuff in, she can see real good now. So, the old stuff had flattened out or maybe the new stuff is more cushiony and the old stuff had flattened out. I think it's probably a couple, 3 inches taller than it used to be and it also has much more back support built into it."
Mike's first upgrade to the Skyhawk when he originally bought it was to replace the old tube-type radios so that he could use it for IFR training. Before he started the panel stage of the anniversary upgrade, Mike used his iPad for weather, navigation, and traffic while also researching certified IFR GPS systems. Then, late in 2017, Mike's avionics decision was made for him.
"As a dentist, you do a lot of bending around and crooking of your neck and stuff and after doing that for about 35 years something happened to my neck and … my fingertips have all gone numb," Mike said. "That's what caused me to retire when I did. My buddy, he had installed the Garmin unit, which is all touchscreen. And that works great and everything, but for somebody with numb fingers, touchscreen plus the jostling around in the airplane — I couldn't use that at all. The Avidyne has the touchscreen, but they also have the buttons and the knobs so that was a good combination to me. I researched that and looked it up at Oshkosh and played with it and actually went down to Avidyne's factory in Florida when I was down there over winter one time and played with it and discussed that with them. And that was a solution that worked really well for me."
With the Avidyne system chosen, Mike set about scheduling an install appointment but was delayed by the onslaught of ADS-B installations in 2018-2019. While he waited, he upgraded the plane's exterior lights to LEDs to improve visibility.
Finally, in May 2020, just a few months before Tweety's official birthday, the full avionics package was installed by Lafayette Avionics in Lafayette, Indiana.
The new panel includes an Avidyne ID 540 GPS nav/comm, Garmin G5 HSI, PS Engineering PMA 8000G and four-place intercom, Garmin GFC 500 autopilot, JP Instruments EDM 830 engine monitor, and a uAvionix AV-20S for angle of attack and backup artificial horizon. Mike said he chose most of his avionics based on his research at EAA AirVenture Oshkosh, but two instruments had additional reasoning behind them.
"The engine monitor, the reason that I got that was I had to do a top overhaul on the airplane with some cylinders … really probably halfway through what should have been TBO," he said. "They said if I got an engine monitor I should be able to monitor things more closely and have a much more successful ride to TBO.
"The reason that I put [the AV-20] in was my ringing ear stuff listening to the drills all those years and then you put on a noise-canceling headphone; I couldn't hardly hear the stall warning horn," Mike said. "That angle of attack meter puts it through the avionics system and it's right in your headphones. So that improves safety for me quite a bit."
Another somewhat unexpected safety-enhancing feature Mike mentioned is his sun visors.
"Those Rosen sun visors are like sunglasses," he said. "You can put them down and look through them if you need to. And in the old Cessna ones that were in there, they were just the standard sun visors that blocked your vision quite a bit. With the Avidyne and ADS-B now you see traffic and it's much easier to know where that is, but with those sun visors I think that improves safety quite a bit, too, even though that's not the reason that I put them in. But realistically, that's probably the best thing about those is it really does improve safety and visibility."
For now, the restoration is complete, but Mike said he's planning on a new paint job in the, hopefully, not too distant future following a move from Danville, Illinois, to Knoxville, Tennessee.
"Down in that area, the hangar lists are 10-15 years long. So, I am on three different airport hangar lists," Mike said. "I'm possibly thinking about going to a grass strip and offering to build a hangar on somebody else's grass strip and basically have them have the hangar when I don't need anymore. But that's a real problem down there. … If I do have to put the airplane outside with a canvas cover on it or something like that, I'd rather have that period be done before I actually paint it. I would hate to paint it and have that ruined before four or five years."
In the meantime, Mike said he's going to leave the exterior as it is except for fixing some minor surface corrosion.
"The exterior I would say on a 1-10 scale is probably still about a seven. There is a little bit of corrosion in some spots that I want to address … now that it's not going to be painted," he said. "It's not big corrosion it's just where the paint is kind of flaking back."
Mike said that he's really happy with how the restoration turned out, but that if he were doing it again, he would have planned things a little differently.
"If I knew it was going to take that long I would have planned it in better weather, but the problem with that is the better weather is the good flying weather," he said. "I thought that the cold weather would be ideal while the airplane wasn't being flown much, but if you don't have a heated hangar — that really does a lot."
Mike also encouraged others to tackle their own airplane projects even if they don't think they have enough experience.
"The internet is great, and YouTube is great for helping you through anything," he said. "I think anybody that's got a little bit of mechanical ability and a lot of patience can probably do something like I've done without a lot of problems. I would encourage people to try that and try to do it themselves it they've got the time."
My Danville Family
By Mike Fuesting
When I moved to Danville after graduating from dental school, I took flight lessons and had the privilege (I didn't know it at the time) of taking my flight lessons from Marty Hall. He was just shy of 60 years old. Neither one of us had any family in the Danville area. During my flight lessons and after, he and his wife, Audrey, befriended my wife, Kathy, and I. They became our "Danville" parents and we became their Danville kids!
After I finished my private pilot certificate, we agreed to fly together on a regular basis. He had a 1972 Cessna 172 and I had Tweety — a mostly similar 1970 model. He wanted to keep current for his IFR and I wanted to learn IFR. We agreed to fly every Wednesday night (after I got off work) — one week in his plane, the next in mine, alternating each week. On weeks that the weather was bad, the four of us would get together at one of our houses and visit together. That took the sting out of the "weathered out" weeks. He became our "life mentor" and we continued this tradition of the Wednesday night flying for the next 30-plus years.
Marty and his wife also played the part of "Danville grandparents" to our daughter, Melissa, when she was born, being there and enjoying her as she grew up. Marty, of course, wanted to teach her to fly when the time came. Even though he was 85, he still maintained his CFII and was a great instructor and mentor for her. He confided in me later that he felt that watching her grow up and teaching her to fly and see her through her private was one of the greatest things that ever happened to him. "Flying to me," he said, "was a family affair."
I continued to fly with Marty weekly into his 90s. Our last flight was just a week before he passed from a heart problem.
So, besides the happy birthday for Tweety, the project was also a very special and productive way of me dealing with my grief of losing a longtime friend and mentor. Instead of the normal Otto or George, I have named my new autopilot Marty! I now ask Marty to take me home. So, in some ways, he is still right there, flying with me!