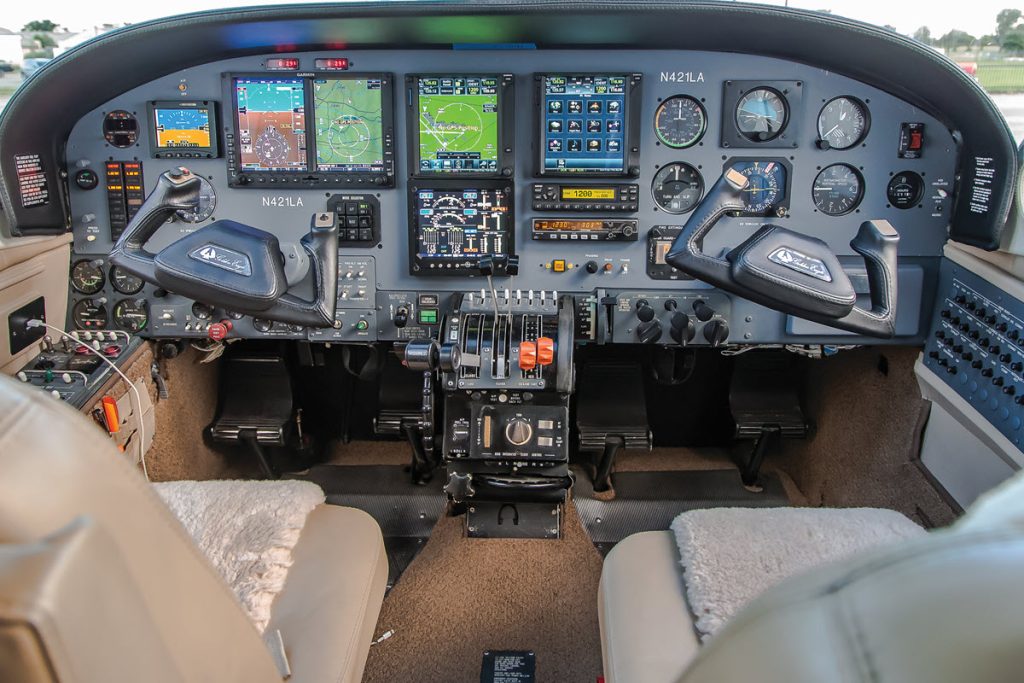 By Bob Hart – www.AvionixHelp.com
There are lots of reasons why an aircraft owner might be considering an avionics upgrade, but it usually is simple: Their current avionics simply don't meet the mission.
One scenario: You purchased a used aircraft, and the avionics don't match your plan for it. Of course, it's always better to find an aircraft that is already equipped for your mission, or as close as possible. After all, if you only get back about 50% of what you invest in an avionics upgrade, then you, as the next owner, es­sentially paid 50% for it, so this makes dollars and sense, when you can do it.
But we all know what is going on right now in the used-aircraft market. It's a great time to sell and a tough time to buy, especially if you're looking for a deal. If you find the right air­craft today, be prepared to pay asking price and move quickly to lock it up. There's a pilot behind you who is ready to pay more!
Another scenario: You've owned an aircraft for years and have abandoned the dream of a faster, roomier plane. You finally de­cide your plane meets your needs. But you recognize that the old stuff isn't reliable enough anymore to continue with your present mission, so you either compromise your mission or up­grade the avionics. The good news here is you are likely in better shape financially than the first scenario, and at current aircraft values, you see room to make improvements.
No matter your motive for upgrading your panel, it makes sense to do it right and to know what the aircraft will be worth when it comes time to sell. Remember, you're putting hours on the engine, which, frankly, has the greatest effect on aircraft val­ues (that and damage history). You also need to know who you are and where you are going.
Pilot, Know Thyself!
There's VFR, light IFR, true IFR, and business flying. What are you now and where are you heading?
I'm not talking about a waypoint; I'm talking about how you fly now and where you are heading in pilot skills. Also, how deeply you hope to venture into the deep, blue sky — the same sky that turns black in a hurry and is ready to test those skills. Skills alone are not enough. You need to have the tools.
Let's define what these terms mean, at least for the purpose of this article.
VFR means you fly in nice weather.
Light IFR means you fly VFR most of the time and IFR when necessary. This is always from minimally bad weather (low fog, clouds, or light rain) toward better weather, and a destination with a ceiling at least 500 feet above ground level (AGL). I had about 50 clients in the last 12 months, and 98% are light IFR or working toward that goal. It is my theory that the majority of licensed pilots in the US are light IFR pilots.
The challenge for light IFR pilots is that they can go for long peri­ods of time without any actual IFR flying, and then find themselves needing to do an approach or departure in less-than-ideal condi­tions. Light IFR pilots could certainly benefit from something like Microsoft Flight Simulator, which will give them the opportunity to "mentally" fly IFR at home, and that can only be good.
True IFR pilots are flying IFR more frequently and have a dif­ferent set of personal minimums. Pilots who fly for business are likely to take it to the next level with a syndrome similar to "get home-itis" called "get to the appointment-itis." Each of these pilot classifications requires a different level of skill and equipage, so before you can plan for an avionics upgrade, you have to know where you are, where you are going, what you have, what you don't have, and what you will need to safely fly your mission. That's a good place to start.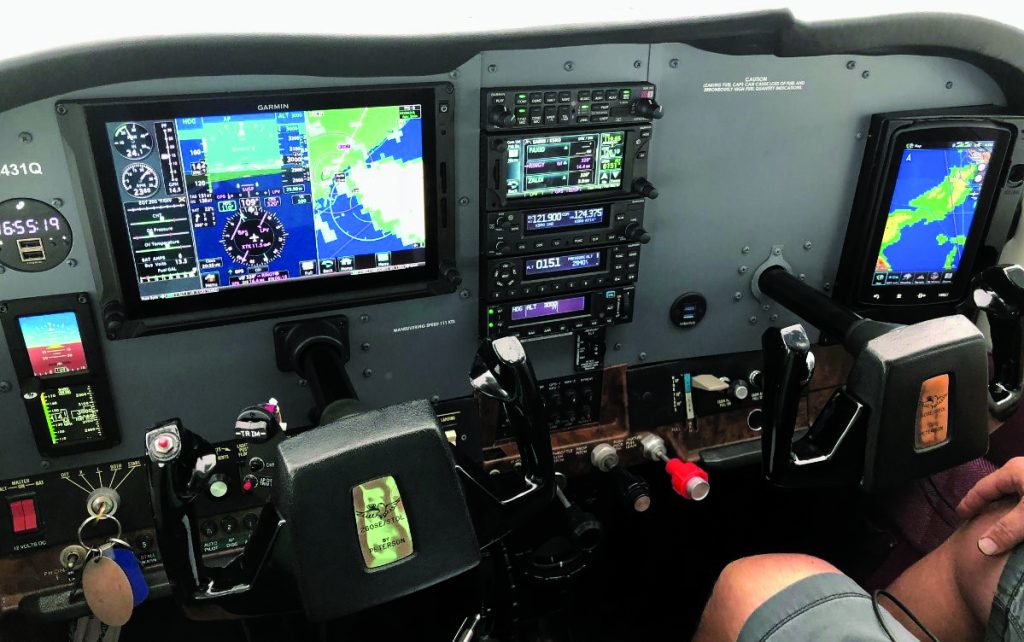 Equipment Checklist
This article is not about equipment, but a review of the basics makes sense:
A VFR panel only requires a single panel-mounted com/inter­com, portable GPS or tablet with software, transponder, and ADS-B Out.
True IFR calls for dual coms, two or three nav sources, sophis­ticated audio control, autopilot, primary engine management, transponder with ADS-B Out, and ADS-B In (minimum) with a big screen to display it. Also, electronic flight instrument system (EFIS) primary flight display (PFD) or big EFIS flight instruments certainly makes sense here.
Sticking with the premise in the first paragraph, we'll focus on light IFR, since I think most of you are there or heading in that direction.
Light IFR also requires, in order of priority:
Dual coms.
A good audio panel like the PS Engineering PMA 8000G.
A primary GPS nav source and a back-up nav source with instrument landing system (ILS) is enough for the light IFR pilot. The Garmin GNC 355 GPSCOM and GNC-255A navcom are popular here.
A Mode S Transponder with ADS-B, like the Garmin GTX-335, or the Appareo Stratus ES works nicely. A UAT like the uAvionix tailBeacon with solid-state Mode A/C also does the job.
Portable ADS-B provides WX and Traffic on an iPad with software and a back-up nav source.
A reliable legacy single-axis autopilot or something like the Trio Pro Pilot (if you have nothing) is more than enough.
Light IFR calls for enhanced engine data beyond factory ba­sics that, at the least, monitors all cylinder temperatures and fuel flow, and provides a good leaning tool. The JPI EDM-830 goes beyond that in an advisory role and is my favorite for light IFR.
If terrain is a common issue, a 406 MHz ELT (Artex Model 345) or personal locator beacon (PLB) should be added. It's IFR! This has to be equipment you can depend on, and un­fortunately, most of the legacy stuff that has been so popular for so long doesn't cut it anymore.
Put this list on one side of the page, and your avionics on the other side, and be honest with yourself. Now you have a list of the avionics categories that you need to upgrade in order to safely fly a light IFR mission.
You'll notice I didn't mention EFIS. Show me your list with the priorities checked off first, then (if you have a long term-plan for the aircraft and are ready to overspend) consider EFIS.
Electronic flight instruments like the uAvionix AV-30-C (when the HSI is ready) would make sense. Spending more on the G5 or GI 275, or Aspen E5, does not.
OK, now you know what you need. Shop the internet for options in each category. The budget isn't what you want to spend, it's what you need to spend.
If you don't have enough to do everything, check off what you can, starting at the top and working down. The autopilot takes priority over engine management, but that comes after you have solid com and nav equipment, audio, and ADS-B addressed.
Get a Quote (or Three)
With that list in hand, it's time to find a shop that appreciates your airplane and your budget! Ask around, visit a few shops locally, and work from there. If you pull up and all you see are twins and corporate jets, you're probably in the wrong place.
Shops that work on your category of airplane will have a lower hourly rate and more likely avionics techs that spend more time where you are. Remember, what you want is good quality work and a fair price. Be prepared to be patient; you can't also have it fast. If you think you'll get the best price by phone or email, you're kidding yourself. Do the work! Blind quotes are likely to be higher.
Let them see your airplane and the task at hand and check them out while you're at it. I've had clients walk away just on first impressions. Get their hourly rate up front and a written quote with equipment price and labor price (for each task) listed separately. Don't expect them to drop what they are do­ing, but look for a quote by email in the next few days. With the hourly rate and a breakdown of equipment and labor for each task, it will be easy to compare quotes from one shop to the other. If the shop gives you one price (including equip­ment and labor) for a task, they're likely trying to hide either their hourly rate or the number of hours per task.
Equipment prices seldom vary from shop to shop. Every­one knows what these things cost. Labor prices don't vary much either, except where corporate jets are parked.
Simply stated — the number of hours to perform a task is the difference between a good quote or bad. I review my clients' quotes and give a thumbs up or down. That's a part of my service and it's a win-win. That's how I keep tabs on what is happening on the tarmac!
Don't bother asking for references. They'll only show you the good ones. Again, do the work. Look for a local event where pilots gather and ask around. I often have shops within a reasonable distance that I know and trust that I can recom­mend.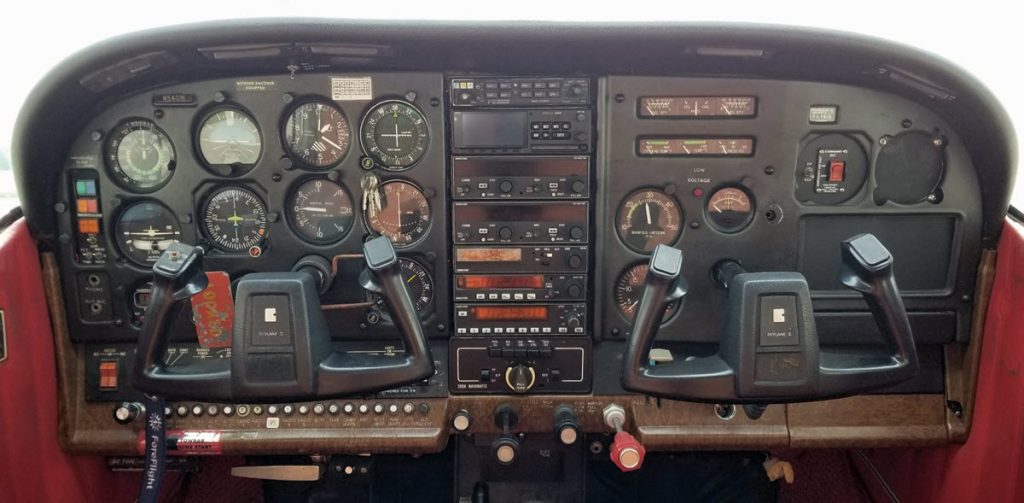 Getting the Work Done
Once you've found the shop and have good quote in hand, expect a deposit of 20% to 25% to lock in your date. In today's environment, if it's not four to six weeks away, you may be in the wrong place. Good shops are very busy.
this writing (in early 2022), Garmin, for example, is reporting that GTN 650Xi / 750Xi (likely their highest demand items) won't ship for six months. Other manufacturers are likely af­fected, so be ready to be patient.
The shop will want money when you drop off the plane — like­ly enough to cover the cost of all equipment — and you'll pay the balance (labor and tax) when you pick it up. You'll sign the order at that time, so make sure the shop (a note on the agree­ment) agrees that "surprises" above a certain dollar amount must be pre-approved by you, and that you might also add a note about the approximate completion date, initialed by the shop manager.
I generally support finding the right shop as close to home as possible, but some states do not have sales tax on avionics installations, and that can add up. At 7%, that's $2,800 on a $40,000 upgrade. That just paid the labor on your navcom and transponder!
Work Done — Picking Up the Plane
For some reason, shops consider Friday as the end of the week and the end of a job, at least that was the case where I worked. We did a lot of deliveries on Friday. Pick­ing the aircraft up on a Friday afternoon has pitfalls, especially when a discrepancy is noted that needs to be addressed before you leave. Discrepancies after you leave are another issue, and another reason why finding a shop closer to home makes sense, even if the price is a little higher. I've seen tired and overstressed techs and owners impatiently trying to address an issue into the dark of Friday evening.
Would you fly home in the dark after any avionics or me­chanical work was done on your plane, especially with a pan­el full of avionics you're mostly unfamiliar with? You should not! Accidents related to maintenance or installations are more common than you want to know, so plan on a more thorough than normal preflight after an avionics installation!
The point is, when you add up all of the above, my advice is to ask the shop to schedule your pickup in the morning, and especially avoid Friday afternoon.
Test Flight Required?
Should you insist on a test flight? Some shops require it. I think a test flight, es­pecially when a new autopilot has been installed, should be a requirement. Some autopilots, like the Trio Pro Pilot I men­tioned, need to be calibrated to the per­formance envelope of your aircraft. This gives you time to sit in the plane and play with the new stuff and do that thorough preflight!
Also consider hiring a local instructor who is familiar with the avionics for an hour or two of dual. This also gives you a chance to thoroughly check everything out before you leave the area, especially on a "destination" installation. If you find yourself traveling back and forth to the in­stallation facility to get the bugs out, you'll have blown the savings by traveling to a distant shop to save a few bucks. It's al­ways best to know everything is right with the installation before you leave town!
Conclusion
Doing an avionics upgrade is a pro­cess, and you have to do the work. I can tell that my clients often struggle finding a shop and a fair quote in this environ­ment so (here it comes again), be patient! Again, the goal is a fair price and quality workmanship. You cannot also have it fast. Ultimately, you will find a shop that meets your needs and your budget.
Thanks again for Reading!
Until Next time … Safe and Happy Upgrading!