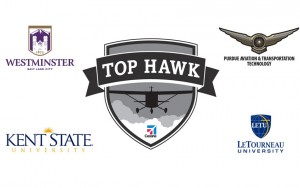 WICHITA, KS – (Jan. 28, 2016) – Cessna Aircraft Company, a subsidiary of Textron Aviation Inc., a Textron Inc. (NYSE:TXT) company, announced the partner universities selected for its 2016 Top Hawk program. Kent State University, LeTourneau University, Purdue University and Westminster College will each take delivery of a new, custom branded Cessna Skyhawk 172 aircraft in February to support flight training, recruiting efforts and promotional activities at their respective universities throughout the year.
"Textron Aviation is excited to partner with these four leading aviation universities, building on the success from last year's launch of Top Hawk," said Doug May, vice president, Piston Aircraft. "These universities are renowned for their innovative aviation programs and commitment to general aviation and will be leveraging the world leading flight trainer, the Cessna Skyhawk, to continue training the next generation of pilots."
In addition to the aircraft, a top student from each of the four universities will be chosen for a Textron Aviation summer internship. These students will receive valuable exposure beyond flight training to include real world experience from various corporate departments such as sales, marketing, flight operations, integrated supply chain and engineering.
The Skyhawk is the world standard for pilot training and is renowned for offering the best combination of modern features, including the G1000 avionics system, and proven dependability. More Skyhawks have been delivered to customers around the world than any other type of aircraft, with more than 48,000 delivered since 1955.
For more information on Top Hawk, please visit http://cessna.txtav.com/tophawk