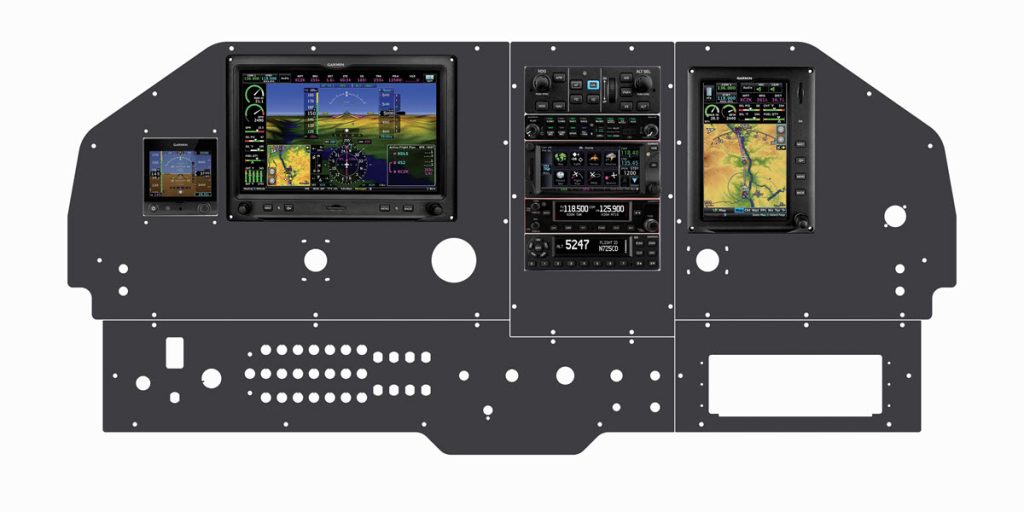 By Elizabeth Gibbs
This article started in the July 2022 issue with a look at the plane's disassembly and its repainting. This month we continue with the restoration of the panel.
Committed to the purchase of his new-to-him 172, it was time for Steve Compton to make some tough choices. Fresh out of the paint booth, the airplane was practically a blank slate, with no interior or avionics. Part of the reason why he had opted to purchase this airplane was the ability to be involved in the decision of what went back in as it was being reassembled.
As mentioned in the previous article, the airplane was going to receive a new stationary panel designed and built by Lyle Jansma of Six Pack Aero. The shock panel that holds the instruments is mounted to the stationary panel, which is the structural portion of the instrument panel. N1965V was built in 1974 and, like all 172s built before the second half of 1975, had the original in­strument layout that was offset from the center rather than the standard "six pack" layout of more modern aircraft. This offset was due to the position of the control yokes, which were lowered about 1.5 inches in later models. The space allowed above the control yoke makes it so that "six pack" configurations and glass cockpit screens cannot be installed without removing some of the material of the structural panel. You can read more about the sta­tionary panel in 172s in the March 2022 issue.
The new stationary panel features a shape that is similar to modern Cessnas and creates more usable volume above the control yokes without lowering them. Working with a Desig­nated Engineering Representative (DER), Jansma designed and built the panel to accomplish the goal without reducing any of the structural integrity of the original structure.
The rest of this article can be seen only by paid members who are logged in.
Have a website login already?
Log in and start reading now.
Never created a website login before?
Find your Customer Number (it's on your mailing label) and register here.
JOIN HERE
Still have questions?
Contact us here.