All photos in this article by Lyle Jansma. This is the first in a series of stories about the upgrade and restoration of this 172, which Jansma and Elizabeth Gibbs are restoring as their photo plane. They'll also be chronicling the upgrade/overhaul of their panel with a new aluminum panel that is the invention of Jansma.
Recently, I had the good fortune to purchase a half share of a Cessna 172. As a 20-something working out the trials of life, it was a big commitment to buy into an aircraft, both up front and long term. The decision was an easy one in the end, as this aircraft was not just any 172. This 172 had already played a significant role in my aviation journey, and quite frankly, I was already in love with her.
My partner in the aircraft, renowned aviation photographer Lyle Jansma, had been the one to introduce me to flying several years ago. I was brand new to this world when he convinced a buddy of his to give me my first-ever flight in a general aviation aircraft. I was bit hard by the bug, but it wasn't until two years later that I would take my first discovery flight lesson in the local flight school's 172. I was officially hooked on flying and set out on a mission to earn my wings. Lyle was a student pilot himself at the time, determined to complete training that had been started 10 years earlier, but paused by life as it so often is.
After we each spent a couple dozen hours renting aircraft, the expense began to add up. Lyle saw an opportunity to invest that money in an aircraft of his own and offered to rent it to me at a discounted rate from what I was spending at the flight school. What a deal! He also made a point to include me in the buying process so that I could learn all the nuances of choosing and buying an aircraft. Lyle would later go on to say, "It was an opportunity for me to help someone be a part of aviation who otherwise couldn't, and I always knew that she would be the next owner of the airplane."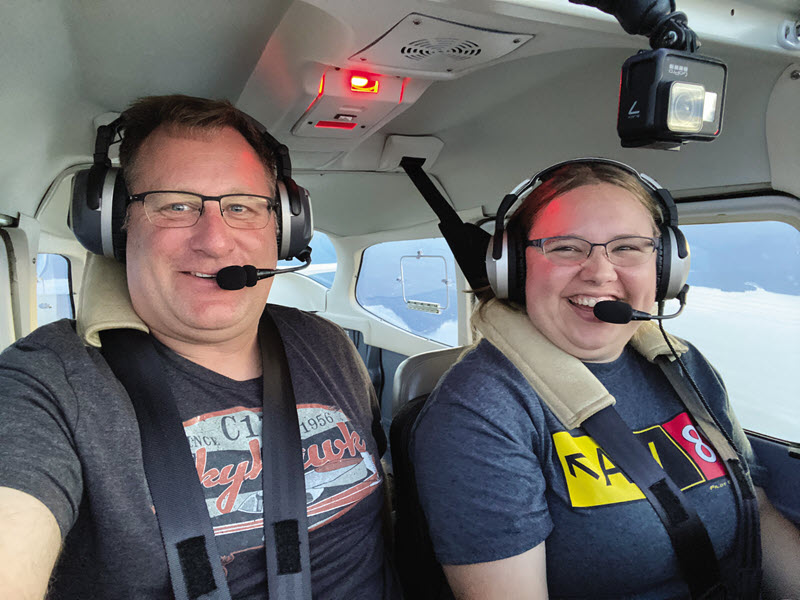 Finding "The One"
We decided to look at buying a Cessna 172, having already logged enough hours to know we enjoyed the reliable, high-wing trainer, which would help us meet our short-term goal of completing our Private Pilot training. Our long-term goals included short cross-country weekend trips, and Lyle eventually hoped to utilize the airplane as a solid photo ship that could keep pace with most GA aircraft. After testing out several models, we decided an early-to-mid 1970s model was ideal due to age, overall condition, and affordability compared to later models.
We scoured internet advertisements and spread the word at our local airport about what we were searching for. We received a tip about an airplane that resided on the ramp with the potential to be what we were looking for. Our local maintenance shop had serviced it for the last annual inspection, nearly two years prior. The owner had lost his medical and was considering selling but had not advertised yet. We were hesitant to look at an aircraft that had been sitting without flying for so long, but with it being at our home airport, serviced by mechanics we trusted, we decided to take a look.
Powered by a low-time Lycoming O-320-E2D 150hp engine, she sported original steam gauges, solid but old Bendix King radios, and complete logs. We were able to see that she had been owned by a single owner until 2003, had a brief history as a flight-school airplane, then she came to live at Bellingham International Airport (KBLI) where we came to find her several years later.
The maintenance shop conducted a thorough pre-buy, allowing us to be involved in every aspect of the inspection, which included pulling a cylinder to inspect inside the engine for any rust or corrosion. The engine was clean, but there were a few squawks that needed addressing. She was more of a project than we had hoped for, but the potential was there and the price was right. After some negotiating, Lyle purchased N3872Q, a 1971 Cessna 172L that we call "Dorothy."
The Squawk List
It just so happened that Lyle had purchased a hangar at KBLI in anticipation of owning an airplane, so it was a short roll from Dorothy's old tie down into her new hangar. Before flying his new bird, Lyle recruited my help and we spent nearly three months addressing the squawks that had been discovered during the pre-buy. Flight training was put on pause as we worked tirelessly on the list of maintenance items. After two years of sitting in the elements, it was important to us that we combed through every inch of her under the careful guidance of the professionals on the field.
Lyle worked with the mechanics to replace scat tubing, weathered wiring, and a damaged carb heat air box. Old stiff throttle, carb heat, and mixture cables were replaced with new FAA-PMA McFarlane cables. Worn out cowl mounts were replaced with new, and a freshly overhauled propeller was installed. Inside, I began building some sweat equity toward those discounted flight hours and cleaned the dirt and grime that had built up over the years. New sound-dampening insulation was installed, as well as weather seal around the doors. Once the work was complete, she was ready to be flown.
We spent the remainder of 2018 flying Dorothy and achieved our goals of becoming private pilots. As there often are with aging aircraft, there were still more projects to tackle. We became good friends with those local mechanics, as they worked with us once more to remove the engine and engine mount, which was sent out for a weld repair to address wear spots caused by cables rubbing. This allowed us enough downtime to install a new Airtex firewall blanket, two new Garmin G5s, and a custom-built instrument panel. We had her back together in time to enjoy another summer of flying, and it gave Lyle a chance to save up some funds for the most important, longest session of downtime Dorothy would have yet.
As both Lyle and I began to gain experience flying, our long-term goals with the airplane were becoming closer and more attainable. To aid in our cross-country trips and eventual instrument flying, he installed dual Electronics International CGR-30 primary engine instruments, upgraded the old portable GPS to a refurbished Garmin 430 WAAS, added a Garmin 345 audio panel, 255A Nav/Com, and GFC 500 autopilot. In addition to that, we replaced every old wire and cable in the airplane with new, installed a new Selkirk Aviation fiberglass interior kit, and a new carpet from SCS Interiors.
Back Seat Redesigned
While in the process of outfitting the airplane to suit our long-term goals, there was one left on the list to address. Lyle, who had put his aviation photography passion on hold to complete his pilot training, had been getting the itch to get back behind the camera for a while. "It has always been a goal to have my own aircraft to shoot from," said Lyle determinedly.
"Drawing inspiration from my experience flying in a number of different aircraft for photo missions, I knew what would work for me," he continued as he explained the modifications. "I knew I could do this after seeing the single occupant, rear observer seats in the new model 172s. My aircraft is built on the same type data certificate."
Nearly a year was spent designing and experimenting with what would work to recreate a similar set up in the 1971 model. The final design included a removable plate that bolted into the holes of the original rear bench seat to which a set of custom drilled seat rails were attached. For the single seat, he utilized a middle row seat from a Cessna 206 with upholstery from Sport Aircraft Seats. This seat ended up being close same height as the original bench seat. The design allows the whole set up to be removed and converted back to a four-place airplane at any time. Photos can be taken easily from either side of the airplane, out of newly installed windows from LP Aero Plastics with custom openings. A sign off from a local Designated Engineering Representative finished up the process, allowing the install of the one-of-a-kind design for a unique purpose.
"Our 172 may not be able to keep up with the warbirds," said Lyle, with a glance toward the wall of his hangar that sports dozens of his awe-inspiring warbird shots. "But behind every hangar door is a potential photo subject, and I'm ready to start telling those stories."
Dream Airplane
Three years after finding Dorothy slowly deteriorating on the ramp, she is now like a brand-new airplane on the interior and will soon receive a little refurbishing on the outside in the form of new paint. She proudly serves her multiple missions with ease; sometimes flying to the San Juan Islands for dinner, heading into the clouds for IFR training, or formation flying in an air-to-air photo shoot. With her, we can capture the beauty of the Pacific Northwest and help to share the many airplanes and stories the area has to offer.
I am privileged to now call myself (half) owner of this aircraft. When the moment came for me to have the means to buy an aircraft of my own, the decision was easy. I had already had the opportunity to invest hundreds of hours in rebuilding and flying my dream airplane. While some may see "just a 172" on the outside, she is fitted for a unique, multi-purpose mission. It is a testament to the continued relevance and usefulness of the most produced general aviation aircraft of all time.
Subscribe to follow along with this upgrade and restoration. This upgrade will be chronicled in a multi-part series.
Click on a photo for a popup slideshow.