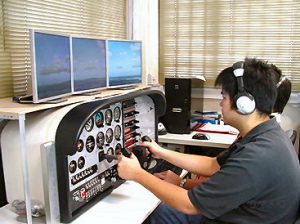 On April 12, 2016, the FAA issued a final rule that permits a person to log a maximum of 20 hours of aeronautical experience acquired in an approved aviation training device (ATD) toward the requirements for an instrument rating.
Under part 61, students can now log up to 10 hours in basic aviation training devices (BATDs), and up to 20 hours in advanced aviation training devices (AATDs), with the combined total not to exceed 20 hours.
The rule also increases allowances for part 141 programs, where students can now get up to 25% of creditable time in BATDs and 40% of creditable time for AATDs (not to exceed 40% total time) for the instrument rating. In addition, the rule also removes the requirement to wear a view limiting device while training in an ATD.
To view more details on the rule, which goes into effect May 12, 2016, go to https://federalregister.gov/a/2016-08388.