Over the years, I have owned quite a few aircraft. I have bought experimental biplanes, Cessnas, Pipers, and even a Grumman AA1. We used to call it the "aircraft of the month club." Several of the planes were non-flying, and they were resold for restoration, parts, or salvage. The rest were flying and used for a while, then transferred to another happy owner.
Prices fluctuated from under $10,000 to hundreds of thousands, depending on the aircraft and condition. As I look back, I think I made money on all the sales, as long as you didn't include labor for cleaning, minor touchups, detailing, etc., although now that I think about it, the single-place, non-electric, open-cockpit biplane might have been a break-even sale. That was still a pretty good deal. I flew that aircraft for a couple years. It was a great warm-weather, fun plane, and that was worth something.
For years I used to fly to every aviation event I could get to. Fly-ins, flight breakfasts, air shows, etc. My goals were to experience the world of aviation, make connections, expand my business, and put on hours. Note that I am not a professional pilot; I never wanted to be a CFI or a warbird pilot or airline guy. I am just a private pilot who used an aircraft to build my business and have fun at the same time, which is probably like the majority of pilots. We fly because we like it and it's fun, and if we can use it in business, that's a bonus.
Through the years, my show schedule got smaller and fewer in number, and I used my own aircraft less and less. Now I'm down to three events: Sun 'N Fun (Florida, April), AirVenture (Oshkosh, July), and the National Business Aircraft Association (NBAA) annual convention (Florida, October). And I hate to admit it, but I typically airline it to Sun 'N Fun and NBAA, and drive to AirVenture, although if you have never flown into Sun 'N Fun or AirVenture, you need to do that at least once (and preferably more) in your flying career.
Stages of Ownership
Most people go through stages of aircraft ownership. Usually, it's something like this: You buy a Cessna 150 as your first plane when you first get your license. Then you move up to a Cessna 172.
After a few more hours and the ego kicks in (or the family gets bigger), you buy a Cessna 210. And then something happens, and you are back to a Cessna 150 or Piper Tomahawk.
And there is nothing wrong with any of that. It is kind of like the "Hero's Journey" of aircraft ownership.
Sometimes, it's not a good time for you to own an aircraft. It could be due to a financial or family situation. College-age kids can stifle the extra cash used for aircraft. So can moving to new locations, job changes, etc. That doesn't mean you can't fly; it just might mean you don't own an aircraft at that time.
Fortunately for me, with all the aircraft I owned, I was able to make a few extra bucks on the resale (except arguably that biplane). But overall, I have always felt that the light single-engine market (Cessna 172 and Piper Cherokee category) was a great way to invest a person's money. Returns were often better than blue chip stocks; and note I was once a stockbroker. I would much rather invest in a plane that I can fly than a stock that I can't fly.
Disclaimer time: I am not an investment adviser and past performance does not guarantee future performance, and aircraft are probably not the best investment for your retirement plan or 401(k). But it can sure be fun to buy and sell aircraft, especially if you make a little money on the sale.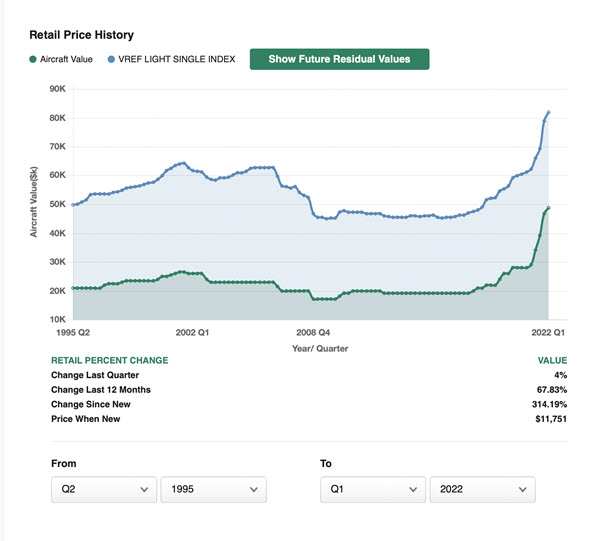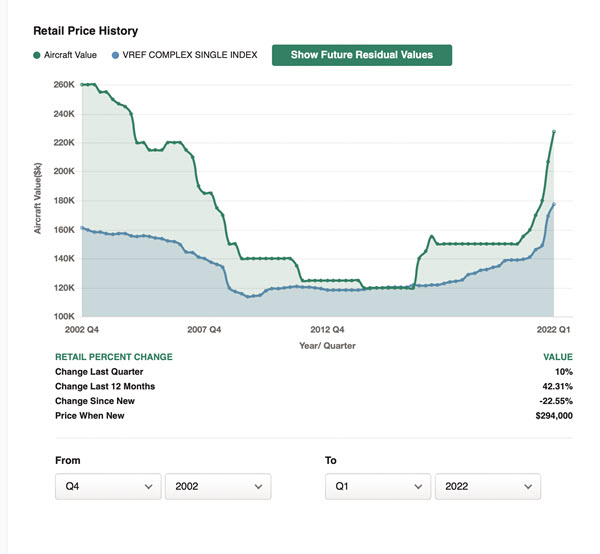 Are We at a Peak?
But that all might be changing. If you have been following aircraft prices, you may have noticed a sudden increase in
values. For the past few years, I have been telling people that it seemed like a great time to buy an aircraft. Prices had started up. In fact, before the pandemic and the closing of live events, aircraft were reasonably priced, while on the rise. When I went out on the "show circuit" last year, I was still saying the same thing: "It's a good time to buy."
If you look back at the Vref graphs, you will see that the light single-engine market saw high prices in 2001, and then another increase in 2007, but a big collapse in 2009 (like almost everything else). Since then, the prices have been sort of bouncing around not doing much of anything.
Until 2017.
The prices started to increase and have steadily increased since that time. Even during the pandemic, the lockdowns, the remote jobs — during all of that, aircraft prices continued to climb.
Yes, it might still be a good time to buy, but just realize the prices have gotten substantially higher.
Let's think about the overall plane market. As of 2020, it was recorded that we have 691,700 active pilots. I do not have a breakdown of the number of pilots that are retired, or their age and income levels. It would be interesting to see how that compares to that larger number.
My guess is that people have more money and more time to fly than they did a few years ago. It does seem like we have a high number of people paying big dollars for aircraft. I have heard of cash buyers waiving prebuy inspections just to get the aircraft before someone else. This tells us that there is more disposable income than there are planes worth owning, at the moment.
Live Example: Elizabeth Gibbs' 172 Insurance Upgrade
COO author Elizabeth Gibbs, who along with photographer Lyle Jansma owns a 172 that they have upgraded significantly, sent in this note as an example of how this can affect you. "I recently went through this process with my 172. It was insured for $100,000 (the max my insurance would allow) but after we did more upgrades, we asked for an increase, and were refused. They asked for a formal appraisal. We paid a certified aircraft appraiser to write a full report on our airplane; it was valued at $170,000. It still took a couple of weeks to find a company that would provide this coverage, even with the appraisal. The struggle is real!"
Do Not Lose Your Head
I need to stop and say this: Do not buy an aircraft without a pre-buy. Airplanes can eat you out of house and home (kind of like a couple horses, or maybe the wrong boat). If you don't buy one because it didn't pass the pre-buy, or it was bought before you got there, no worries. I still believe that aircraft are like buses: "There's always another one around the corner"
The rest of this article can be seen only by paid members who are logged in.
Have a website login already? Log in and start reading now.
Never created a website login before? Find your Customer Number (it's on your mailing label) and register here.
Still have questions? Contact us here.