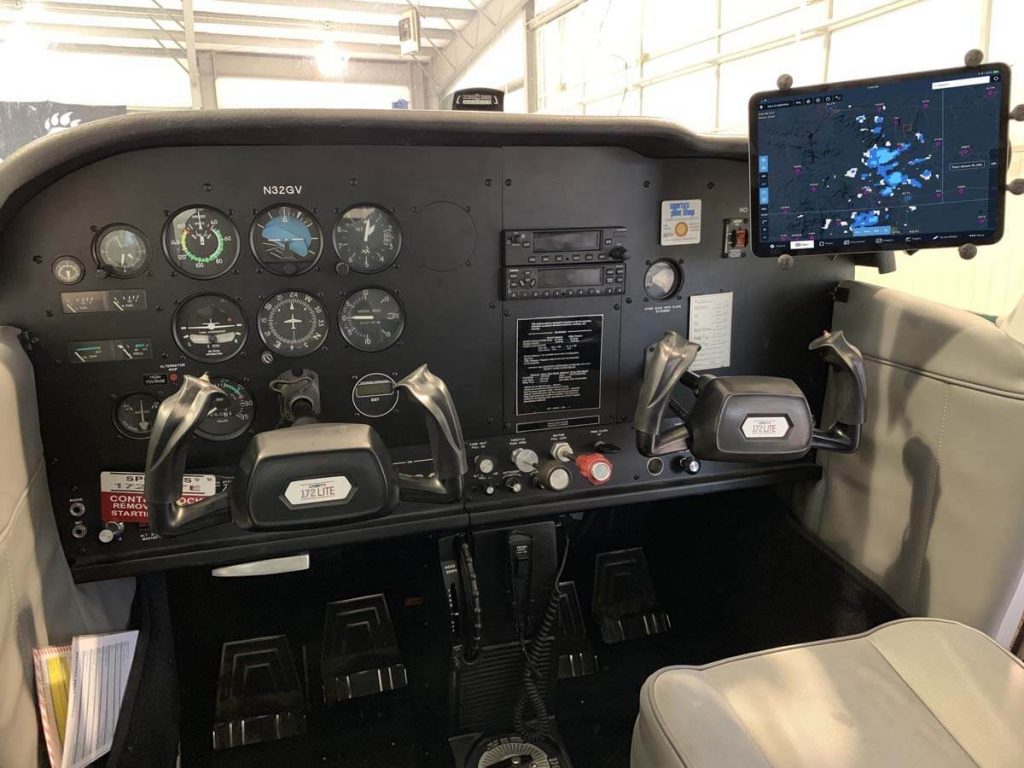 You would be surprised how many times I have had a client ask me what they can buy to fill an empty hole in their panel. Maybe they just did some upgrades and removed a few old, nonfunctional or unnecessary gauges like an intercom or an old fuel flow meter. Seems pilots hate empty holes in their panels. I'm thinking of designing 3-inch, round picture frames so that pilots can fill holes with pictures of their loved ones! That's not a bad idea. Wouldn't that be a good thing for a VFR pilot to see just as he or she's considering a little "scud running"! We've been looking at some of the new, serious avionics in the last few months. This month, let's talk about the less serious stuff you can put in your panel to fill holes or add something that can actually help. Think of this as the rows of things you didn't know you needed as you're waiting to check out at the supermarket.
USB charger
You'll find "cigarette lighter to USB chargers" sold in every convenience store in America for $5. Aircraft Spruce offers one targeted at pilots for $9.95. You don't really think that you can get for $5 what an aircraft quality USB charger does for $300 do you? First of all, in my opinion, the cigarette lighter plug is the worst electrical connection invented by man. It is subject to vibration and quits working when you least expect it. On a trip to Orlando to drop a friend off to catch a commercial flight, my Garmin portable suddenly stopped working 15 miles out. I was using the GPS to identify and avoid Class C airspace and to avoid flying over Disney World — that airspace is exclusive to Dumbo! The GPS stopped working because the male plug came loose, and the electrical connection was lost. It had been out for some time and now the battery was dead! Additionally, aircraft quality USB chargers are shielded to prevent electrical noise. One pilot posted a review of the $9.95 Spruce option and said, "Produces interference noise in aircraft radios when charging. Does not properly filter out the electric noise like an aircraft USB charger should. Since it was marketed toward aircraft, I thought this one would work — nope!" This option may work for a VFR aircraft but is not recommended for more serious flying.
Today, many manufacturers offer USB chargers. A dual charger makes sense to me so your iPad can remain charged and your cellphone ready when you land.
Super Clock
VFR pilots use their watch or cellphone to know what time it is. True IFR or light IFR pilots use their panel-mounted clocks/chronometers as a tool. You don't see much of the old windup clocks in panels anymore, but a lot of the digital chronometers remain. What if your clock could do more? If you're flying much IFR behind a single-axis autopilot these days, couldn't you use a little help maintaining your assigned altitude? Electronics International offers its ASC-5A Altitude Alerter/Super Clock that does everything that your standard chronometer can do and more, and includes a built-in altitude alerter to remind you when you deviate from your assigned altitude. You can also program approach altitudes to alert you when you have reached minimum descent altitude, decision height, pattern altitude, wheels down altitude, or any altitude for which you wish to set an alert.
Aircraft Spruce offers the Electronics International (EI) ASC-5A for $480. Don't you wish your clock could do that! To see all that the ASC-5A can do, check out the unit's Quick Reference Guide at www.iflyei.com.
IPad mounts
Let's face it, the iPad or smart tablet is practically standard equipment in most legacy aircraft. If you're still using it as a kneeboard or mounted on the yoke, maybe it's time to come up with a mounting option that makes better sense. We know that looking down at a kneeboard and back up can be a prescription for spatial disorientation so it's not a great option in IFR. For me, something heavy on the yoke took some feel away. Many aircraft have enough room on the right side of the panel that a creative mount option may be a good place to secure the iPad. I think one of the best sources for this information is Sporty's iPad News, a website dedicated to using a smart tablet in the cockpit. Here's the link: ipadpilotnews.com. Click on Shop, then Mounts and you'll see a ton of mounting options for your iPad or smart tablet.
Carbon monoxide detector
We take some things for granted. Carbon monoxide, for example. We know of cases where pilots have been overcome by carbon monoxide but we take for granted that it won't happen to us or you think that little card with the red dot that's been on your panel for six months is going to help. First, be aware that some CO cards may protect you for only a month. Second, just like your vacuum pump can fail in flight, a leak in your exhaust system is also possible. New aircraft are coming out of the factories with exhaust leaks! Some manufacturers suggest their cards are good for a year, but they include this warning: CAUTION: Detector will be damaged by the presence of halogens (iodine, chlorine, bromine), ammoniac, and nitrous gases. Harsh direct sunlight will tend to bleach out indicator spots and shorten useful life. A good electronic carbon monoxide detector is the way to go. You'll find several portables available for general use, but Guardian Avionics offers panel- or remote-mounted units that are designed for aviation use. Fly high and concerned about hypoxia also? If you frequently fly "flight levels" without pressurization and are dependent on portable oxygen, Guardian offers a combination CO detector/pulse oximeter that can provide peace of mind. They're also a great source for USB chargers.
P2 gear-up warning system
I just featured P2 in an article a few months ago ("Funny Feet" PIPERS May 2020) but if your aircraft has retractable gear and you missed it, you'll want to know about the P2 6601 Audio Advisory System (AAS). The 6601 can virtually ensure that you will not be a victim of a gear-up landing, and at the same time keeps better track of your "time in service" than traditional methods. Gear up landings can happen to anyone. Whether you are flying alone and "skip" the checklist or are distracted by GPS alarms, passenger chit-chat, or whatever, no pilot wants to experience that sudden stop and bent prop! Pilots flying retractable aircraft with book values less than $80,000 can find themselves without an aircraft when their insurance company totals that "perfect" Cessna or Piper that you have owned, babied, and improved for years. You can protect yourself from this with a P2 Aviation Technologies 6601 AAS.
Garmin's new aera 760 portable GPS
If you have Garmin equipment in your panel, especially with Wi-Fi data transfer capability, or you're about to add it and you haven't yet purchased a smart tablet, you may want to take a look at Garmin's new aera 760. While I am generally a fan of smart tablets with aviation software, the 760 offers some features that make it a standout in this environment.
Main features include:
Garmin WireAware
Internet weather
Automatic data downloads
Up to four hours of battery life
Connext
TargetTrend (when paired with compatible devices)
TerminalTraffic (when paired with compatible devices)
Smart Airspace
3D Vision with virtual behind-the-aircraft perspective view
3D representation of surrounding terrain and obstacles
I used to fly my Corbin Baby Ace low along the Saco River in Maine so that WireAware feature would have been nice! The 760 has a large 7-inch diagonal display and is packaged like an iPad. It is also VFR and IFR legal and replaces paper charts and approach plates. Data transfer between the 760 and Garmin panel mounts is seamless. Street price is $1,500.
UAvionix AV-20-S certified backup EFIS
The AV-20 is not certified as primary to replace your existing horizon. It is designed and certified as a backup instrument that does 75% of what the 3-inch AV-30 does in a 2-inch package. It would be a great backup to a mechanical vacuum AI. The AV-20-S provides 12 functions including AOA, backup attitude, true airspeed, and density altitude (with optional outside air temperature probe) and a lot more, including a clock/countdown timer. The AV-20-S would make a great replacement for your old analog clock and therefore turn that 2-inch hole into something significant. The AV-20-S sells for $895 plus installation.
Conclusion
If my recent articles on EFIS had you excited until you realized they were not in the budget, how about adding one of these accessories to your panel at a fraction of the investment.
IPad or smart tablet mounts are very affordable, and you can pick up a dual USB charger, Super Clock, or CO detector for less than $500 or add backup EFIS to your panel for under $900. The aera 760 will set you back about $1,500 and if you have retractable gear, the P2 6601 AAS will give you "freedom" from the prospect of a gear-up landing for about $3,000.
Enhance your panel with one of these options! Piece of cake when you consider how much you saved without SUN 'n FUN and AirVenture this year!
Thanks for reading! Until next time, safe and happy flying!