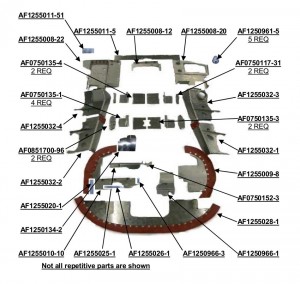 Baffle kits now available for 1976 – 1980 Cessna 210
BIG LAKE, ALASKA, 15-July-2015 – Airforms' growing line of FAA PMA'd replacement engine baffles now includes parts for 1976-1980 C210 aircraft. The newly approved C210 baffles expand Airforms' engine baffle product line to near 60 applicable aircraft models. The baffles are eligible for installation on serial numbers 21061040 through 21064135.
"We continue to respond to the needs of the GA marketplace, as we work to provide high quality FAA PMA components that will stand up to the most challenging operating conditions." said Steve Hunter, Airforms' Sales and Marketing Executive. "We work directly with our customers to zero in on solutions that will best support their operations. All of the parts in our most recent Cessna baffle release are designed for longer life, increased serviceability and improved cooling performance – and we are pleased to offer customers a price point that is a mere fraction of the cost of OEM replacement parts."
Airforms baffles are available with either a bare or powder coat finish, incorporate design reinforcements with longer lasting materials, and feature reinforced Hi-Temp silicone seals fastened to the metal baffles with rivets. All baffles are FAA approved replacements for the original Cessna parts, and are individually interchangeable.
Airforms is the world's leading supplier of replacement engine baffles for a wide range of general aviation aircraft; products also include an expanding line of piston and turboprop aircraft PMA parts and STCs. Airforms maintains an FAA approved manufacturing system for PMA parts, supported by an engineering department with FAA DER staff.
For more information, including a secure online marketplace and catalog, visit www.airforms.biz. Airforms' operates from 7 AM to 7 PM CST business days and can be reached directly at 907-892-8244.