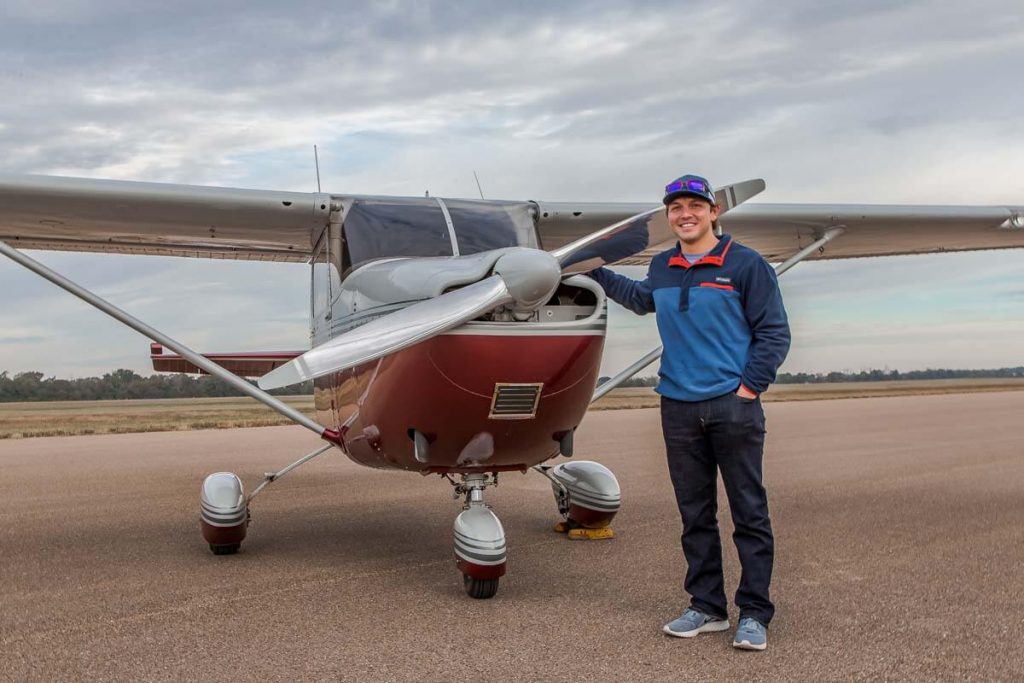 Echo the Krummen Brothers Legacy
By Nick Meyer
Nick's Skylark was the April 2020 cover plane.
I was lucky enough to be loved and raised by a man who didn't have to step up to the plate but did so willingly — my stepdad, Steve. Steve taught me so much about life: what it meant to live, what it meant to love others well, more trades than I could list, and a love for aviation.
My mom began dating Steve when I was 6 years old. Steve was a man with many interests, but aviation ranked at the top of his list. I loved aviation from a young age and knew one day I wanted to be a pilot like Steve. Steve shared his love of aviation with everyone he met. He helped his brother Jeff (10 years younger) earn his pilot certificate at a very young age. From that time forward Jeff and Steve made years and years of memories flying together. Steve flew countless family members and friends over the years and shared in family get-togethers every Wednesday night at his hangar.
Steve flew his Cessna Skylark, Echo, to visit my family any chance he got. My boys always got so excited to go to the airport to pick up Grandpa, Grandma, and Steve's daughter, Madison. Echo was hand flown all around the U.S. including a trip to the Bahamas. It went on numerous adventures including SUN 'n FUN and EAA AirVenture Oshkosh with Madison; many nights sleeping under its wings; every grass strip within a big radius of Butler County; and Bob Beckman's (lifelong friend of Steve and Jeff) annual fly-in.
Steve and Jeff's lives ended earlier than any of us had ever wished due to an unfortunate airplane accident. I was in the process of getting my pilot certificate at the time. As we all mourned the loss of Steve and Jeff, and still do to this day, we were at peace knowing they both left this world with their best friend doing what they loved most — flying.
At the time of Steve's passing it wasn't in the cards for me to get his plane. However, a year ago I was able to get the very first plane he ever bought: a 1959 Cessna 175A. The joy of owning Steve's very first plane exceeds anything I had ever imagined. Flying Steve's plane is the place I feel closest to him since he left us. I hope to honor Steve's legacy by sharing the love of aviation he taught me by flying with others.
Steve purchased N6762E into the family in 1991. It was originally based at Butler County Regional Airport-Hogan Field (KHAO) and is now based at Columbus Airport (KCSG). Echo has no autopilot and no fancy glass panel, just a basic six pack, simple IFR equipment, and a Garmin GNC 300.
My favorite feature of Echo is its whopping 84-inch polished propeller. It's spun by a GO-300 that originally came factory in the Skylarks. The big gearbox on top of this six-cylinder becomes quite the conversation piece to many, as most all Skylarks have now been converted to 180- to 200-hp powerplants by getting rid of this gear reduction box and gaining a constant speed prop. In the near future I plan to do the conversion but for now I'm going to enjoy that polished prop and the very smooth-running GO-300 with anyone who will meet me at the airport to poke holes in the sky just like Steve did.
As far as changing anything on Echo goes, I honestly don't think I would. Once you become educated on the 175, which was only manufactured by Cessna for 4 short years, you become fully aware that the gear reduction was its downfall. If you see a 175 listed for sale (they typically will catch your eye because of the low price tag) you'll first need to find someone with GO-300 knowledge to guide you down the right path as parts for them are rare or sometimes nonexistent. The overall airframe of the 175 is terrific and known for its great short field capabilities. Nothing is more fun than doing touch-and-goes with Johnson bar manual flaps!