iFLY GPS: THE COMPLETE EFB app for Android, iOS and Windows
About iFLY GPS by Adventure Pilot
iFLY GPS: The Intuitive EFB
Every feature we build is designed to minimize pilot input and completely remove complex interaction. Features are designed to be no more than two simple touches away.

Large Buttons and Menus – Menus and buttons are simple, descriptive and clear using high-contrast colors and large fonts.
High Contrast Colors – iFly GPS is made for your cockpit. We've developed proprietary methods to provide high contrast images and fonts for high visibility in the most challenging cockpits.
Intelligent Selection – Bouncing around in turbulence is challenging enough without your EFB popping up the wrong information. iFly GPS limits false selections by intelligently determining the desired action.
No Complex Gestures – iFly GPS is touch-based such that there are no complex gestures. No dragging or deep menus — nearly every function is two touches away!
Read more on our website: http://www.iflygps.com/
Adventure Pilot LLC
1476 Industrial Blvd
McKinney, TX 75069
Phone Number (214) 585-0444
Facebook https://www.facebook.com/AdventurePilot/
Instagram https://www.instagram.com/adventure_pilot/
LinkedIn https://www.linkedin.com/company/adventure-pilot/
Twitter https://twitter.com/AdventurePilot
---
Show Specials
iFLY SUBSCRIPTIONS – 3 MONTHS FREE!
iFly GPS is the complete EFB app for Android, iOS and Windows that has all the advanced features pilots want in the most intuitive flight planning and navigation solution on the market. Made by pilots for pilots. Try us, and we think you'll leave the big guys for good!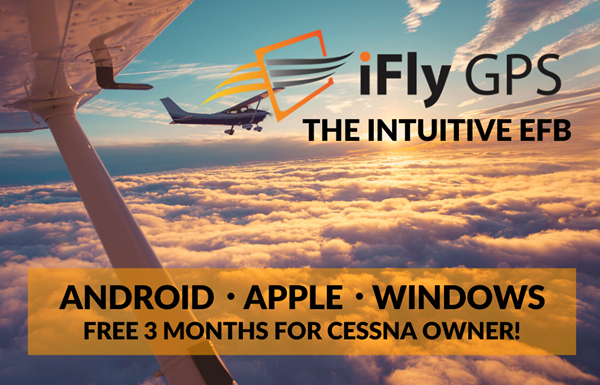 ---
iFLY 740b GPS – $75 OFF!
Designed for bright cockpits, the iFly 740b GPS is best aviation portable on the market.
WiFi Enabled– fast updates and filing from almost anywhere!
WAAS GPS Enabled – uses the advanced WAAS system to improve GPS accuracy.
ADS-B In – ADS-B Traffic and Weather can be received from most ASD-B devices.
Super Bright Screen– Sunlight readable, 1100 nit screen that is 2X brighter than an iPad or other tablet!
Contact Adventure Pilot
Photo Gallery
Click on a photo for larger images.
Click on a photo for larger images.